20/12/16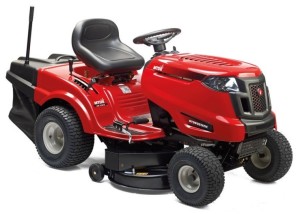 Máte veľkú záhradu a kosenie bežnou benzínovou kosačkou je už pomaly nad Vaše sily? V tom prípade treba prejsť na vyšší level. Záhradný traktor alebo záhradný rider je to pravé riešenie pre veľké až nadrozmerné záhrady, parky či ihriská.
Dnešná ponuka záhradnej techniky je skutočne široká a laik by mohol mať vážny problém vyznať sa v množstve ponúkaných záhradných traktorov a traktorových kosačiek. Tieto výkonné stroje môžu byť na prvý pohľad veľmi podobné, avšak v skutočnosti sa od seba odlišujú v mnohých parametroch. Azda najviditeľnejším prvkom je umiestnenie sekacich nožov, ktoré sa môžu nachádzať buď pred prednou nápravou, priamo pod šoférom medzi nápravami, alebo až za zadnou nápravou. Každý typ má svoje výhody aj nevýhody a je určený na kosenie iných typov záhrad či terénov.
Ďalej si tiež treba všímať, či má traktor možnosť bočného aj zadného vyhadzovania a zberu do koša. Zberný kôš je kapitola sama o sebe, pretože napr. taká funkcia vyprázdnenia zberného koša priamo z miesta vodiča automaticky je mimoriadne obľúbená avšak nie je súčasťou každého záhradného traktora. Druhou dôležitou a potrebnou funkciou je mulčovnaie vďaka čomu nebudete mať problém s vyvážaním pokosenej trávy, pretože traktor ju dokáže okamžite zapracovať ako hnojivo do pôdy.
Aký by mal byť ideálny záhradný traktor?
Dobrý záhradný traktor musí mať v prvom rade dostatočne silný a výkonný motor, ktorý spoľahlivo utiahne samotný traktor a zároveň poskytne aj dostatočný výkon kosiacemu zariadeniu. Ďalej si treba vybrať správnu prevodovku – manuálnu alebo hydraulickú. Pre kvalitné a dokonalé kosenie musí byť Váš traktor ľahko a dobre ovládateľný, aby sa dostal aj do zle prístupných rohov a kútov záhrad, aby v stiesnených priestoroch nezostávali nepokosené plochy. Pokiaľ plánujete kosiť skutočne veľké plochy, mali by ste dbať aj na kvalitu sedenia a jeho odpruženia. Pre prácu za šera, večer alebo v noci je zase nevyhnutné predné aj zadné svetlo. Skutočnou špičkou vo svete kosenia sú záhradné traktory SNAPPER:
20/12/16
As technology evolved, so did the automotive industry and with it, the engineering parts that would make it a precision-running vehicle. For this role, the suspension system played an important part.
History of the Ford F Series
The Ford F150 Leaf spring has different types of builds categorized in generations from lightweight to medium sized pick-up trucks. Throughout this time, Ford kept what worked and scratched what didn't. The very first official F150 model in the first generation was built in 1948. However, NewtruckSpring stocks leaf springs manufacturers for the Ford F150 model dating back to 1942!In 1953, the newer version increased dimensions and as a result, updated the chassis.
It wasn't until 1959 that that Ford began in-house production of the third generation, the four-wheel-drive pick-up trucks that were built in 1957-60. So, it could be reasoned that any automotive parts, especially the suspension system for the first two generations of Ford F150 trucks might be a little difficult to find, even for Ford manufacturers. To expect Ford to keep suspension parts for a model that was made almost 68 years ago would require an additional amount of warehouse space that may not be worth the expense since classic Fords are more of a collector's item now.
Even from the third generation to the sixth, these models are old enough for their parts to be almost obsolete.
Where to Get Classic Suspension Replacement Parts
Truck Spring, a leaf spring and suspension parts manufacturer since 1965, knows exactly what type of leaf spring you might need for your F150 model, no matter what year it is. For example, the 1942-1952 Ford ½ Tone Front Leaf Spring has 8 leaves with a spring capacity of 850 lbs., and is solder in pairs. What's more is that you can order these springsonline.
While the earlier leaf springs models have a limited weight capacity, the springs dating up to 1972 can hold up to 1,250 lbs. However, this set of leaf springs has only 6 leaves. These springs are also sold in pairs.
You can view our full list of  leaf springs for the Ford truck online here.
19/12/16
TimoCom zaznamenal letný nárast prepráv
Erkrath, 18.10.2016 – Dopravný barometer TimoCom v 3. štvrťroku 2016 vykazuje prepravy a voľné vozidlá v pomere 55:45 a zaznamenal tak previs prepráv na európskom dopravnom trhu, čo značí zaujímavý prísľub pre jeseň.
Tretí štvrťrok je v tomto roku doposiaľ najbohatší na prepravy. To ale nie je všetko – v porovnaní s rovnakým štvrťrokom oboch predchádzajúcich rokov boli tentoraz všetky tri mesiace na teoretickom optime 50:50. A to je zjavný vzostupný trend, ktorý však neplatí len pre porovnanie s predchádzajúcimi rokmi. Po prvý raz v roku 2016 vykazoval každý mesiac tohto štvrťroka previs prepráv.
Pozitívny dôsledok leta: viac prepráv
TimoCom zaznamenal v júli podiel prepráv 54 %, ktorý tak prevyšoval voľné prepravné kapacity, ako predpovedal Marcel Frings (Company Spokesman) už v správe o stave dopravného barometra z minulého štvrťroka. Vzhľadom na nižšie hodnoty v predchádzajúcich rokoch možno konštatovať ešte jednu zaujímavosť: Podiel prepráv v júli rok od roku stále rastie.
V auguste klesli prepravy na 51 %, ich podiel ale napriek tomu zostával vyšší ako dostupné prepravné kapacity. Prepravy tak v auguste zostali pomerne stabilné a ich počet neklesol pod 50% hranicu, ako sa to stalo v oboch predchádzajúcich rokoch. Tieto čísla navyše ilustrujú skutočnosť, že európsky dopravný trh bol v lete tohto roku viditeľne aktívnejší.
Vrchol tohto roka a štvrťroka však na seba nenechal dlho čakať, pretože september priniesol možný štart do zlatej jesene plnej prepráv. S podielom prepráv 61 % v porovnaní s voľnými kapacitami 39 % dosiahol dopravný barometer svoju maximálnu ročnú hodnotu. September tak predstihol mesiac máj, ktorý vykazoval o dve percentá menej a v roku 2016 doposiaľ viedol. Frings vysvetľuje, ako k tomu došlo: "Dôvodom výrazného nástupu je dobré doznievajúce leto, ktoré opäť prinieslo pohyb medzi ľuďmi aj v doprave."
Okrem toho bol september podstatne bohatší na prepravy ako v minulých rokoch: Podiel prepráv v roku 2015 bol výrazne slabší – 50 % – a v roku 2014 53 %.
Pohľad na absolútne čísla v 3. štvrťroku navyše tiež ukazuje, že celkovo bolo v dopravnej platforme TimoCom uverejnených viac ponúk prepráv a voľných vozidiel ako v porovnateľnom období predchádzajúceho roku.
Dobré vyhliadky na koniec roka
Po silnom 3. štvrťroku je teraz otvorená zaujímavá otázka, či sa tento trend prenesie do trvalo zlatej jesene. Marcel Frings (Company Spokesman) verí, že áno: "Signály za september avizujú, že jeseň bude bohatá na prepravy. Podľa všetkého zostane vysoký podiel prepráv zachovaný." November však necháva priestor na špekulácie. Klesne tak veľmi ako v minulom roku o 11 percentných bodov?
Frings vysvetľuje: "Nemecká ekonomika je vďaka stabilnému pracovnému trhu a silnému konzumu dobre vyťažená a mohla by fungovať ako európsky motor."
V TimoCom preto predpokladáme, že dopravný barometer na konci roku tiež vykáže previs prepráv.
Viac informácií o TimoCom a dopravnom barometri nájdete na www.timocom.sk.
14/12/16
When you are outfitting your truck or van to carry heavy loads, you will want to consider adding heavy-duty S10 leaf spring behind your leaf springs for added strength and durability. At newtruckspring.com, we stock heavy duty leaf spring to improve the suspension of vehicles that will be used for farm use, snow plows, RFs and work trucks. You can be sure that the suspension professionals at Newtruckspring can find whatever you need to improve the suspension of your Chevy leaf spring.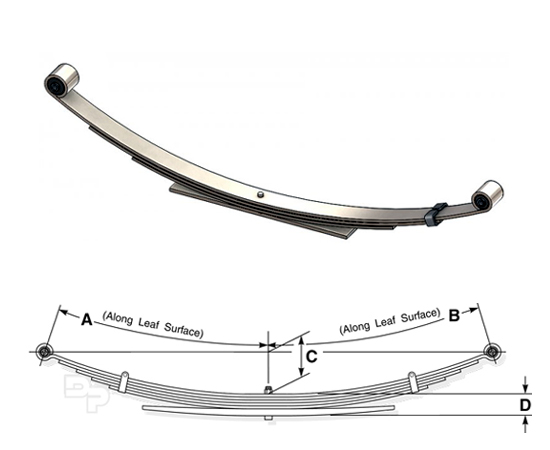 How Do Leaf spring Work?
Most suspensions incorporate leaf springs that attach between the body of the vehicle and the axle. When the wheels hit a bump, the axle will jolt upwards and the leaf springs will absorb the force rather than transferring it to the body. However, if the vehicle is under a heavy load, the springs will be stretched to their capacity and you will feel the hit.
To improve on this common suspension problem, one option is to install leaf springs behind the leaf springs. These extremely ridged coils of steel will force the leaf springs down from the body and will absorb a large portion of the load Therefore, the loads will not stretch the leaf springs to their limit and you will not have the bottoming out when you go over bumps or through potholes.
What is Available for the Cheavy S10 leaf spring?
Heavy-duty leaf spring for your Chevy S10 differ between model and model year, so be sure to get the right size for your particular vehicle and its corresponding year. Capacities range from 2,670 – 5,000 lbs., so increasing your load capacity is definitely possible. At Newtrcukspring.com , we have springs available for all model years from 1973 onwards, and we can even custom design leaf springs if you have a particular project you need to fulfill.
New Truck Springs: Your Experts for Any Suspension Enhancement
New Truck Spring Co., Ltd belongs to Wabco group which is a leading supplier in auto parts. Our headquarters is located in Xiamen.
We own several factories and joint-ventured manufacturers in China which are successfully certified with TS16949 and ISO9001/2009 quality control system.
With more than 10 years' development, we can supply a full range of spare parts for full trailers, semi-trailers, heavy & light duty trucks agricultural machines and engineering machines. Our main Products are Leaf Spring, Coil Spring, Wheel Rim,Landing Gear,Trailer Jack,Jockey Wheel, Axle, Mechanical Suspension, Air Suspension, Agricultural Suspension, Bogie Suspension,Turntable, Fifth Wheel, King Pin, Brake Chamber, Container Lock, Coupling, Towing Eye, Drum, Hub, Mudguard, Lamp, Excavator Bucket, Bucket Teeth, Track Link, and other Chassis Parts.
With our advanced technology and professional team, we can supply high quality products with competitive price and best service.Being an OEM and after market service supplier, our sales network covers North America, South America, Europe, Middle East,Africa, Southeast Asia and Oceania. Our products enjoy a high reputation in the market. Warmly welcome all over the world friends to visit our Xiamen showroom and our factories to set up a long-term cooperation relationship.
Listed below are the Replacement Leaf Springs that are designed to work with the 1998 Chevrolet S10. Please review the vehicle options and installation notes, to ensure you select the correct product for your Chevrolet S10,need assistance selecting the right product? Send mail to:info@newtruckspring.com
12/12/16
Part of the Heiress Collection, this Cheap Jordans 2017 features a full Night Maroon upper that combines a premium nubuck leather and velvet for an eye-catching appearance. Metallic Gold branding has then been placed on the "23" on the heel, the Jumpman by the ankle, and the branding on the tongue. A white midsole and translucent maroon outsole wrap things up Jordan 11.This upper with "Air Jordan" words to replace the wings logo Air Jordan 1 Rare Air will usher in the first half of next month to three color, physical map have been unveiled. Now bring this pair of orange on the foot map, so that modelers take you to feel the effect on the foot.
New Jordans 2017 Will replace the classic patent leather wine red velvet material, the golden Jumpman logo and details of embellishment as the finishing touch, noble temperament. As a new member of the "Heiress" series, Air Jordan 11 Retro GG "Heiress" will officially come in mid-this month. The United States on sale shop announced plans are as follows.In December, it really lived premiere AJ11 Space Jam (by the way, are available in several sizes), but next weekend we will again have a new color scheme of Air Jordan 3. After AJ12 is another issue J'sów based on wool uppers, where there we have a plethora of colors and sticking to soft classical.
Jordan Brand decided Jordan Shoes 2017 on a color scheme reminiscent of the Georgetown University, so we have the dominant gray padded accents in navy blue. Upper is made largely of suede, but on the front of the sole ostało a little skin texture iguanas. All this erected on a gray sole.Hardly what you presented the Air Jordan 12 "Playoffs" and now we skrobnąć next entry with low twelves. All this because of leaks and zajawkowych images with Cheap KD 9 new colors.