02/06/17
V roku 2015 prišiel Google s významnou zmenou vo vyhľadávacom algoritme, a to zobrazovanie webstránky na mobilnom zariadení. Tento dôvod potvrdil, prečo je responzívny web dizajn tak dôležitý. Tvorba webstránok sa dnes nezaobíde bez tohto dôležitého kroku.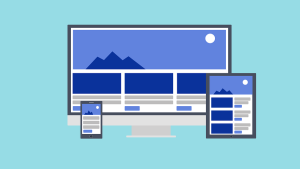 Jednoducho povedané, webstránka musí byť použiteľná aj na mobile. To zahŕňa elementy ako sú:
čitateľný text bez nutnosti zoom-ovania

adekvátny priestor pre buttony

žiaden horizontálny posun
Neoptimalizované webstránky pre menšie zariadenia môžu spôsobiť pokles vo výsledkoch vyhľadávania.
Čo je responzívny web dizajn?
Responzívny web dizajn vytvoril systém stránky, ktorý reaguje na zariadenie užívateľa. Responzívna webstránka má prispôsobiteľné a flexibilné rozloženie, teda prispôsobuje sa veľkosti rozlíšeniu. Tak poskytuje optimalizované prehliadanie.
Jednoducho, vaša webstránka tak bude vyzerať skvele a správne fungovať na desktope, tablete alebo na smartfóne.
Výhody responzívneho dizajnu pre mobily
Hlavným benefitom responzívnej stránky je, že užívateľ bude mať na akomkoľvek zariadení skvelý zážitok z prehliadania webu.
Taktiež je to skvelý spôsob, ako ponechať na stránke len ten obsah, ktorý je pre dané zariadenie dôležitý.
Aktualizácia algoritmu Google vylepšila viditeľnosť responzívnych webstránok vo vyhľadávaní, pretože sú "mobile friendly". Je dosť možné, že responzívna stránka tak predbehne tú, ktorá responzívna nie je.
Prečo je responzívny dizajn dôležitý pre biznis
zvýšenie dosahu užívateľov a zákazníkov na menších zariadeniach (tablety, smartfóny)

užívateľská skúsenosť (user experience alebo UX), ktorá zvýší publikum a v konečnom dôsledku aj konverzie (zanechanie kontaktu, registrácia, predaj)

ďalšie dôležité analytické dáta a reporty

čas a náklady na správu obsahu sa znižujú

predbehnete konkurenciu
Mobilné zariadenia sa neustále vyvíjajú a ich využitie neustále rastie. Preto optimalizujte a buďte viditeľní na akomkoľvek zariadení. Vaši zákazníci môžu byť všade.
27/11/13
Počet užívateľov internetu je čoraz vyšší, s čím sa spája aj príchod nových podnikateľských príležitostí. Internet sa stal akýmsi trhom, na ktorom pôsobia rôzne reklamné agentúry, on-line média a samozrejme elektronické obchody, známe skôr ako e-shopy.
Každý, kto sa rozhodne využiť obrovský potenciál internetu a chce začať predávať cez online obchod, stojí pred viacerými otázkami. Napríklad: Ako si takýto eshop vytvoriť, koľko ma bude tvorba eshopu stáť a čo všetko budem okrem predajnej internetovej stránky potrebovať. V nasledujúcej časti článku si každú z týchto otázok zodpovieme.
Takže. Elektronický obchod je kvázi webová stránka s predajným systémom. Takúto stránku si môžete dať vytvoriť na zákazku, prípadne ju prenajímať paušálne.
To znamená, že za využívanie predajného systému budete platiť mesačné poplatky. Napríklad si objednáte platformu pre 1000 produktov, k tomu dostanete výber z niekoľkých predvolených vzhľadov a môžete nahadzovať produkty. Je to veľmi rýchle riešenie, pri ktorom môžete predávať doslova zo dňa na deň. Pri takýchto riešeniach je ale často funkcionalita a vzhľad prednastavený, a len ťažko sa dajú robiť veľké zmeny ako pri vlastnom eshope.
Čo sa týka otázky nákladov pri paušálnom riešení nemáte žiadne počiatočné náklady, hosting, systém a niekedy aj doménu máte rozrátanú v mesačnej platbe. Naopak, s tvorbou vlastného systému sa spája vyššia počiatočná investícia. Následne platíte "len" hosting a v ročných intervaloch doménu. Okrem toho potrebujete technický tím, ktorý sa vám bude o stránku v prípade potreby starať.
Takže to bol eshop. Máme stránku, to ale nestačí. Načo nám bude web, ktorý nikto nebude vidieť a navštevovať? Potrebujeme rozhýbať sociálne médiá a optimalizovať svoju webstránku pre výsledky vyhľadávania, tzv. SEO.
Okrem samotného eshopu tak bude dôležitý aj internetový marketing, v rámci ktorého sa budeme zameriavať na rôzne časti online marketingu, ako spomínané SEO, sociálne médiá, ale aj e-mail marketing a podobne..