09/04/15
S blížiacimi sa sviatkami jari sa u mnohých, ktorí sa snažia žiť zdravo, vynára otázka, ako pripraviť sviatočný stôl. Musí byť plný, ale nie preplnený mastnými a ťažkými jedlami. V minulosti sa na Veľkú noc hodovalo po 40-dňovom pôste, na stoloch rozvoniavalo údené mäso, klobásky, šunky, ale aj domáce koláče. Každý kraj mal trochu iné zvyky, ale všade sa stôl prehýbal pod množstvom dobrôt. Dnes sa už pôst nedodržiava ako kedysi, práve naopak – ľudia radi nakupujú zásoby pred sviatkami. Niektoré jedlá však jednoducho k Veľkej noci patria. Môžete si však nájsť ich zdravé alternatívy, bez zbytočných kalórii a sacharidov. V najväčšej slovenskej sieti predajní zdravej výživy Norbi Update vám poradia, po akých tradičných výrobkoch, ale aj moderných alternatívach siahnuť, aby na tom vašom stole nechýbali originálne a zároveň zdravé jedlá.
Špecialista na zdravé stravovanie Norbi Update Ivan Gallo, k tomu vraví: "Návštevu aj šibačov môžete prekvapiť obloženými misami, ktoré okrem údenín, patria k typickým veľkonočným jedlám. Namiesto majonézových šalátov s vysokým obsahom tukov a cholesterolu, zvoľte z našej ponuky vajíčkový, alebo parížsky šalát. Šunka, či klobása v  mäsiarstvach obsahuje škodlivé aditíva a múku, preto zdravšia je určite naša Update šunka z kuracích pŕs krájaná, alebo údená klobása. Ochutnajte aj náš krájaný chlieb s ražnou múkou, Dr. Schwarz cibuľový bochník, alebo pečivo, ktoré si môžete nakrájať k šunke s vajíčkami. A k vajíčkam pridajte vynikajúcu U1 majonézu so zníženým obsahom sacharidov. Ochutiť to môžete aj chrenom s majonézou alebo stolovým strúhaným z našej produkcie a samozrejme čerstvou zeleninou, rajčinami, paprikou, alebo aj zaváranou cviklou a uhorkami. Ak ste kreatívni, pripravte si veľkonočnú studenú alebo teplú roládu. Základ môže tvoriť šunka plnená syrom z našej bohatej ponuky. Ponúkame aj syry Halloumi v príchutiach natur, cesnakový, údený alebo s mätou, vhodné na grilovanie a pečenie. Pre tých, čo milujú mäso, je skvelým tipom veľkonočná plnka napríklad do kačice. Na prípravu zvoľte rožky Update, U1 strúhanku alebo Norbi múku a naše koreniny. Na stôl patria aj kvalitné vína. Vyberať môžete zo zdravých bielych a červených vín, ale aj z pív bez cukru."
Ozdobou na sviatočnom stole a potešením pre deti môžu byť koláčiky v tvare veľkonočného zajaca alebo vajíčka. Na výber sú aj pre gazdinky ingrediencie na pečenie, ako Low Carb Flour Norbi múka, prášok do pečiva, vanilkový cukor, prírodné sladidlá zo stévie na prípravu polevy.
"Ak máte radi koláče našich starých mám, nezabudnite na kysnuté cesto. Aj na plnenie hotových koláčov máme v ponuke širokú škálu lekvárov. Novinkou sú extra džemy jahodový, marhuľový. Zaujímavý je čučoriedkovo-bazovo-bazalkový džem. Základom pri pečení je nepridávať kryštálový ani vanilínový cukor, ak chcete dodržať zdravé stravovanie. Umelý cukor v našich výrobkoch nenájdete," odporúča I. Gallo.
Dodáva, že k aktuálnym novinkám značky, okrem džemov, patria aj chrumkavé syrové medailónky, či praclíky, slané tyčinky, ktoré sú vhodné na dekorovanie sviatočného stola. Zo sladkých pokrmov sú to tzv. brownie, mafiny s kakaovo-ríbezľovým krémom, kakaová roláda s  krémom, malinovo-piškótová roláda, či kokosové guľky s mandľami.
"Nezabudli sme ani na kúpačov, ktorých môžete odmeniť bohatou nádielkou veľkonočných vajíčok alebo zajacov z mliečnej čokolády bez pridaných cukrov. Vytvorte si vlastný darčekový balíček z našich sladkostí, alebo si nechajte poradiť v predajniach po celom Slovensku" uzatvára I. Gallo.
Viac informácií je na www.update.sk
04/03/15
Mesiac knihy – marec je príležitosťou opäť skúsiť, aký to je pocit vrátiť sa po niekoľkých rokoch k čítaniu klasických kníh. Doba nášho detstva, či našich starých mám, kedy bolo čítanie kníh a návšteva knižnice radosťou a takmer aj povinnosťou, je nenávratne preč. V súčasnosti už mnohí čítame len na obrazovke laptopu, smartfónu, celý deň sedíme v kancelárii pred počítačom, večer popozeráme správy na svojom androide, zároveň sledujeme televíziu a ideme spať. Ku knihe sa dostaneme iba výnimočne, keď náš obľúbený autor románov či bestsellerov vydá novú publikáciu.
Najväčšia slovenská sieť predajní zdravej výživy Norbi Update pri príležitosti mesiaca knihy pripravila akciovú ponuku na zakúpenie publikácie Norbiho tajomstvo po novom, z ktorého sa už predalo viac ako 200 000 výtlačkov. Odborník na zdravú výživu zo siete Norbi Update Ivan Gallo, k tomu hovorí: "V dobe, keď bolo čítanie kníh tak jednoduché, vyhľadávanie informácií v encyklopédiách samozrejmosťou a návšteva knižnice pravidelnosťou, ľudia žili zdravším životom. Viac pracovali vonku a jedli pestrejšie. Naša medzinárodná značka zdravých potravín preto nezanedbala starostlivosť o zdravie ani počas mesiaca knihy. Pre milovníkov zdravého životného štýlu a všetkých, ktorí trpia nadváhou, alebo už vyskúšali rôzne neúčinné diéty, ponúkame 30 % zľavu na nákup tohto svetového bestselleru. Podmienkou získania zľavy je nákup výrobkov v ľubovoľnej hodnote v predajniach na Slovensku a vyplnenie kupónu s kontaktnými údajmi. Kupón je splatný do konca marca. Pridajte sa medzi nás, ktorí si celoživotne dokážeme udržať svoju hmotnosť, prečítajte si revolučné návody, ako upraviť svoju hmotnosť na optimálnu úroveň a hlavne si nájdite čas na čítanie pre svoje zdravie."
Norbiho tajomstvo po novom ukrýva návod, ako sa stať štíhlym a tým aj zdravým bez obmedzenia stravy. Skutočný príbeh Norberta Schoberta, ktorý vážil 104 kg, opisuje rôzne úskalia chudnutia, ktorými si známy vynálezca prešiel. Spoznal všetky zaručené redukčné diéty, ktorých dôsledkom boli iba jojo efekty. Hladoval, prejedal sa, behal do bezvedomia, až nakoniec prišiel na to, že táto cesta nikde nevedie. Objavenie cesty zdravia na základe správneho stravovania bolo dôležitým míľnikom v živote Schoberta, ale aj samotného vývoja špeciálnych potravín bez pridaného cukru, s nízkym glykemickým indexom a s nízkym obsahom sacharidov.
Spoločnosť Norbi Update v mesiaci knihy nevynechala ani diabetikov, pre ktorých sú jej výrobky certifikované. Vo štvrtok 5. marca 2015 v čase od 14.30 do 17.00 hod. sa v Slovenskej knižnici pre nevidiacich M. Hrebendu v Levoči, bude konať krst knihy Dia šlabikár v Braillovom písme vrátane jeho zvukovej verzie. Knihu pokrstia herečka Zuzana Haasová a nevidiaci 81-ročný pán Ličko. Akcia je určená pre nevidiace a slabozraké deti základných a stredných škôl. Otázky účastníkov zodpovedia prítomní lekári – pediater a diabetológovia. Značka Norbi Update je jedným z partnerov akcie. Pre diabetické deti zabezpečuje stravu na olovrant. Strava bude zložená z výrobkov Šomlovské halušky, Kokosové halušky, Tiramisu, kakaové či pizzové sušienky na váhu. Dia šlabikár, ktorého autorom je Peter Herceg a kol., je príručka pre deti s cukrovkou, ich rodičov, kamarátov a spolužiakov. Popisuje, ako postupovať pri problémoch, s ktorými sa môže diabetik stretnúť v bežnom živote, napríklad legislatívne nároky, cestovanie na dovolenku, začlenenie do spoločnosti v škole, športovanie. Hovorí aj o odborných postupoch, ako sú zásady stravovania v systéme sacharidových jednotiek, dávkovanie inzulínu, meranie glykémie, zdravotnícke pomôcky a ďalšie rady.
Viac informácií je na www.update.sk, www.spisiacik.sk/fotogaleria-18-114
05/02/15
Sviatok svätého Valentína nemusí byť len o nákupe sladkých čokolád v supermarketoch či o rezervácii drahej večere v reštaurácii. Čoraz viac zamilovaných uprednostňuje súkromie a čaro Valentína v pohodlí domova s vlastnoručne pripravenými špecialitami. Môžete maškrtiť celý deň pri viacerých chodoch a valentínskom koláči, dokonca bez toho, aby ste sa obmedzovali. Stačí siahnuť po zdravých prísadách na varenie a pečenie. Váš partner si pochutná, ale nebude pociťovať prekyslenie, plynatosť či iné príznaky prejedenia. Najväčšia slovenská sieť zdravých potravín Norbi Update sa postará o to, aby ste svoju polovičku nielen obdarovali originálnymi sladkosťami, ale aj navarili zdravo. Výrobky Norbi Update dokonale nahradia bežne dostupné sladkosti, ktoré obsahujú pridaný rafinovaný cukor a majú vysoký obsah sacharidov.
Odborník zdravej výživy medzinárodnej značky Norbi Update Ivan Gallo, k tomu hovorí: "Zvyčajne páni zjedia všetko, čo ich milované pripravia. Láska ide predsa cez žalúdok. Cez žalúdok ide však aj presolená a okorenená večera, sladké torty, zákusky, ktoré prekysľujú organizmus a z ktorých sa automaticky priberá. Muži sa nezamýšľajú nad tým, či im jedlo škodí alebo prospieva. Jednoducho sú najedení a vtedy aj spokojní. Na dámach teda zostáva, aby dbali na zdravie celej rodiny. V našich predajniach sú dostupné zdravšie cukrárenské výrobky, ako niekoľko druhov ovocných koláčov, zákuskov, tort a krémov, či sladké pochutiny, ako sušienky, pudingy, dezerty, čokolády a iné. Na pečenie sa výborne hodí tortová poleva Cake Sweet, Update1 stolové sladidlá, či sladidlo Lovely Sweet na osladenie čaju, kávy, limonády, koktailov, pri varení ovocných polievok, krémov, pudingov, omáčok, alebo na pečenie piškót, palaciniek, koláčov. Tohtoročnými novinkami sú belgická čokoláda s ryžou v troch druhoch, bezlepková zmes na prípravu mafín a bezlepková kokosovo-čokoládovo-mandľová zmes mussli vhodná na výdatné raňajky. Ďalšou novinkou je Zero kalóriové sladidlo so stéviou, ktoré odporúčam na pečenie."
Dodáva, že vo všetkých slovenských predajniach sú v ponuke darčekové balíčky pre zaľúbených. Obsahujú napríklad marcipánové mačacie jazýčky so sladidlom v darčekovom balení, čokoládové srdiečka, či rôzne druhy čokolád, z ktorých je možné pripraviť balíček zákazníkovi na mieru. Na výber sú  mliečna čokoláda s orieškovým krémom, mliečna a horká čokoláda sladená erythritolom. Sladkosti obsahujú sladidlá na prírodnej báze, ako Xylitolové sladidlo, PreBio sweet na báze rastlinnej vlákniny, Lovely sweet – tekuté sladidlo zo stévie. Výrobky môžu obsahovať prirodzene sa vyskytujúce cukry, neobsahujú však farbivá, zvýrazňovače chutí, glutamany a konzervanty.
"K valentínskej večeri patrí aj kvalitné víno. U nás nájdete len zdravé vína, čo je skvelá alternatíva k bežným presladeným vínam, ktoré obsahujú organické kyseliny, aromatické látky, aj alergény používané na čírenie vína. Medzi priaznivé účinky vína však patrí udržiavanie optimálnej hladiny cukru, znižovanie hladiny cholesterolu, posilnenie imunity organizmu a protizápalové účinky. Na výber je aj vlani uvedený nový rad suchých vín Update 1 NATURAL s nízkym obsahom sacharidov, alebo Update1 červené víno. V ponuke máme aj Rizling rýnsky - biele víno bohaté na antioxidanty flavonoidy, ktoré pozitívne pôsobia na cievny systém, alergie, môžu ho aj cukrovkári. Skvele sa hodí k studených predjedlám a k rybím pokrmom. Pre dámy, ktoré obľubujú ružové víno, máme Frankovku modrú Rosé s obsahom antioxidantov znižujúcich riziko vzniku kôrnatenia tepien. Sú vhodné k obľúbeným GRISSINÁM alebo Update1 cestovinám s mäsovými omáčkami," uzatvára I. Gallo.
Viac informácií je na www.update.sk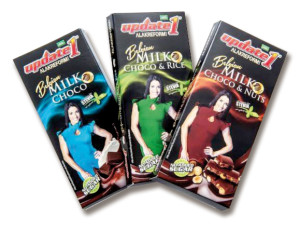 26/11/14
Aj u vás sa Mikuláš spája s čižmou v okne a kopou sladkostí? Toto však nie je jediný deň v roku, kedy si deti takéto maškrty doprajú. Dajte si však pozor na to, že deti majú oveľa menej pohybu ako kedysi. Čoraz diskutovanejšou je aj téma každodenného nákupu sladkostí v školských zariadeniach. Rodičia by sa mali zamyslieť, čo si ich ratolesti za vreckové kúpia v škole na desiatu. Ak im aj doma sladkosti zakážu, nezabránia im v tom, aby peniaze na desiatu minuli na čokoládové tyčinky, či sladké nápoje zo školského bufetu. Takto je však prísun kalórií i škodlivých prísad bez akejkoľvek kontroly.
Výživa detí v predškolskom a školskom veku je veľmi dôležitá a priveľa cukru môže mať negatívne následky na ich zdravý vývin. Odopriať im však čokoládu, napolitánky, či cukríky zvlášť na Mikuláša, by ich veľmi sklamalo. Určite ste videli zahraničné video s reakciami detí, ktorých rodičia sa tvárili, že im pojedli sladkosti, ktoré si vykoledovali počas Halloweenskej noci. Je to dielo známeho moderátora a komika Jimmyho Kimmela, ktorý už tretíkrát zožal s týmto videom úspech po celom svete. Ak sa takejto reakcie chcete vyhnúť, môžete skúsiť zdravšiu verziu sladkostí, bez pridaného rafinovaného cukru, aké ponúka maloobchodná sieť Norbi Update.
Ivan Gallo, špecialista na zdravú výživu Norbi Update, k tomu poznamenáva: "Na Mikuláša sme vo všetkých predajniach pripravili pre deti mikulášske balíčky v hodnote od 4,35 eur do 6,08 eur. Obsahujú nielen čokoládových Mikulášov, ale aj širokú škálu sladkých produktov, ako krehké sušienky, čokoládové alebo orechové, musli tyčinky, marcipánové tyčinky. Rodičia si môžu aj vybrať z našej ponuky sladkých aj slaných pochutín a pripraviť si balíček podľa vlastných predstáv. Ak máte radi sladké, môžete si vybrať z rôznych sušienok, dezertov, tyčiniek či karameliek a bonbónov na váhu. Milovníkov čokolády určite zaujme ručne vyrobená biela, mliečna, horká čokoláda, ktorá je aj vo variante so sušeným pomarančom, alebo mliečna čokoláda s plátkami banánu. Ponúkame tiež zaujímavé čierno-ríbezľové a višňové marcipánové guľky, orieškovo marcipánové toliare s mliečnou čokoládou, čokoládové marcipánové srdce a novinkou sú jahodové marcipánové mačacie jazýčky. Pre tých, ktorí majú radšej slané, máme široký výber rôznych pochutín, ako napríklad Rips s olivovým olejom, slané či pizzové tyčinky Grissino. To však nie je všetko, stačí si prísť vybrať do niektorej z našich 23 predajní po Slovensku."
Zároveň dodáva, že o zdravie detí je potrebné dbať celoročne, nielen na výnimočné sviatky, či rodinné udalosti. Mnohí rodičia si však stále neuvedomujú, že zdravie spočíva v strave a pohybe. "Najmä mamičky by mali sledovať obsah potravín, ktoré nakupujú denne. Stačí odsledovať na obaloch potravín pridaný rafinovaný cukor, ktorý je už takmer vo všetkých druhoch výrobkov. Riešením nie je ani zaradiť do jedálnička pre deti diétne jedlo, lebo deti potrebujú bielkoviny, tuky aj sacharidy. Stačí nahradiť doteraz konzumované výrobky za stravu Norbi Update, kde sú v ponuke bežné potraviny, ale v celkom inej obsahovej kvalite, bez negatívneho vplyvu na organizmus a váhu. Mamičky teda môžu variť ako doteraz, akurát zo zdravších surovín a postarať sa tak o zdravie celej rodiny," uzatvára I. Gallo.
V sieti predajní zdravej výživy Norbi Update je v ponuke aj možnosť predvianočnej objednávky vianočného pečiva, ktoré zahŕňa zázvorové sušienky s vianočným motívom, vianočnú bábovku, Update 1 pomarančový biskupský chlebíček, rôzne druhy závinov a štól z krehkého cesta. Objednávkový formulár záujemcovia nájdu vo všetkých prevádzkach na Slovensku. Zákazníci si určia termín dodania pečiva, kedy si ho pohodlne prídu vyzdvihnúť do predajne v mieste svojho bydliska. V decembrovom vydaní časopisu Norbi Update Spravodaj distribuovanom do schránok domácností, si zároveň môžu prečítať tipy na chutné a zdravé vianočné recepty.
Viac informácií je na www.update.sk
21/10/14
Rozvoj franchisingových maloobchodných prevádzok je dnes v európskych krajinách osvedčeným podnikateľským trendom. V oblasti zdravej výživy sa na Slovensku úspešne presadil franchisingový koncept Norbi Update. Dôkazom toho je otvorenie v poradí už dvadsiatej tretej predajne potravín bez pridaného cukru v SR a to v Kráľovskom Chlmci. Spoločnosť tak poskytuje podnikateľskú príležitosť pre priaznivcov zdravého životného štýlu, predovšetkým tých, ktorí majú skúsenosti s maloobchodom. V sieťach predajní Norbi Update zároveň zaznamenali za prvý polrok tohto roka opäť nárast predaja potravín oproti minulému roku. Na raste tržieb sa tak podpisuje aj rozvoj podnikateľských a marketingových aktivít na slovenskom trhu. Informoval o tom konateľ spoločnosti Update Slovakia s.r.o. Ivan Gallo.
,,Podnikateľ musí disponovať osobnostnými predpokladmi, manažérskymi schopnosťami, mať obchodného ducha, skúsenosti s riadením maloobchodu a vedením ľudí, byť cieľavedomý a asertívny, silný hráč, ktorého neodradí ani drobný neúspech. Záujemcom o franchising ponúkame know-how a marketingovú a technickú podporu, ale podnikajú ako samostatné právne subjekty, vo vlastnom mene a na vlastnú zodpovednosť. Pomáhame im s výberom a lokalizáciou vhodného miesta predajne, ale aj pri rokovaní o výške prenájmu, výbere najvhodnejších obchodných priestorov či spôsobe interiéru prevádzky, od projektovania zariadenia až po jej kompletnú realizáciu vybavenia. Systém je vhodný tak pre samostatné podnikanie, ako aj pridružená činnosť k existujúcim podnikateľským aktivitám. Odporúčame záujemcom dobre zvážiť svoje schopnosti, finančnú situáciu a vôbec záujem prevádzkovať maloobchodnú predajňu. Po absolvovaní franchisingového semináru s krátkym úvodným školením by mal každý vedieť, či si to môže dovoliť. Semináre pre záujemcov sa pravidelne usporadúvajú v mesačných intervaloch. Zástupcovia spoločnosti sú k dispozícii aj na individuálne poradenstvo k téme podnikania s Norbi Update po dohode v centrále v Komárne," vysvetlil I. Gallo.
Dodal, že spoločnosť Update Slovakia s.r.o. plánuje naďalej otvárať pobočky vo všetkých okresných mestách a stať sa lídrom medzi predajcami produktov zdravej životosprávy na slovenskom trhu. Cena licencie je momentálne 6000 Eur bez DPH a zahŕňa chránené územie, priebežnú marketingovú, technickú a organizačnú podporu, teda marketing značky, pravidelné školenia a vzdelávanie personálu a majiteľa prevádzky, neustále riadenie a personálne a právne poradenstvo. Každý majiteľ a zamestnanec musí povinne absolvovať Update akadémiu, ktorú ukončí skúškami. Všetky predajne s plochou od 45 do 60 m2 sú uniformné z pohľadu zariadenia, technického vybavenia, dizajnu a grafiky. Široká ponuka potravín zdravej životosprávy, distribuovaných v rámci franchise systému Norbi Update, je jedinečná svojím zložením. Potraviny majú minimálne o 50 % nižší obsah sacharidov ako klasické potraviny, nízky glykemický index, vyšší obsah vlákniny a bielkovín a vyrábajú sa bez pridania rafinovaných cukrov, bez zvýrazňovačov chutí, syntetických a potravinárskych farbív.
,,Dôvodom neustáleho zvyšovania počtu našich zákazníkov je postupné uvedomovanie si, že zdravie naozaj začína stravou a pohybom. Preto sa čoraz viac odkláňajú od drahých farmaceutických výrobkov s nežiaducimi vedľajšími účinkami a vyhľadávajú odborníkov na zdravé stravovanie, ktorí im pomôžu zmeniť jedálniček. Ešte stále je však vidieť, že cielene po zdravých potravinách siahnu ľudia s civilizačnými ochoreniami, či na podporu chudnutia. Pritom v dnešnej náročnej dobe by už mali byť zaradené do bežného harmonogramu stravovania celej rodiny. Nakupovanie zdravých jedál a ingrediencií je na Slovensku stále doménou žien, alebo špecifických skupín, ako športovcov, ľudí trpiacich ochoreniami, ako diabetes, nadváha, obezita, vysoký krvný tlak, vysoká hladina cholesterolu. Dopyt po farmaceutickom tovare každým rokom klesá spolu s poklesom nákupu liekov. Na druhej strane záujem o stravu Norbi Update v posledných dvoch rokoch prudko stúpol. Tento trend registrujeme najmä pri produktoch, ako čerstvé nízkosacharidové pečivo, cestoviny, sladké a slané pochutiny. Práve tieto druhy sú od začiatku roka najpredávanejšie," konštatoval I. Gallo.
Sortiment produktov Norbi Update obsahuje 13 produktových radov s viac ako 300 produktami, ktoré sa takmer každý týždeň dopĺňajú o novinky. Patria sem potraviny, ktoré ľudia každodenne konzumujú, ako chlieb a pečivo, mliečne, mäsové, konzervárenské, cukrárenské výrobky, cestoviny, sladkosti a pochutiny, mrazené produkty, ovocné nápoje a sirupy, cereálie a výživové doplnky, rôzne koreniny a sladidlá, ale aj hotové jedlá či menu. V tomto roku spoločnosť vstúpila aj na český trh, do Veľkej Británie a plánuje expandovať aj do ostatných európskych štátov.
Stravovací systém Update je výnimočný tým, že nič nezakazuje. Podľa I. Galla je účinný s akýmikoľvek potravinami, je však potrebné ich rozdeliť do troch kategórií, ktoré určujú, kedy a čo jesť. V Update predajniach nájdete iba potraviny patriace do kategórie Update 1, čo sú potraviny s nízkym glykemickým indexom (GI) a nízkym obsahom sacharidov, ktoré sa môžu konzumovať od 6. do 22. hodiny.
Viac informácií je na www.update.sk
Kontakt pre záujemcov o franchising: franchise@update.sk