21/09/16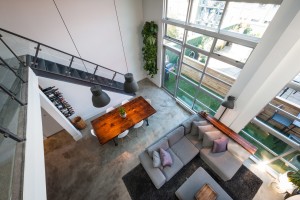 Túžite po štýlovom apartmáne zariadenom pocitom slobody? Jesenné sychravé večery sú tým správnym časom na dávku inšpirácie, nápadov a praktických rád pre domácnosť, ktoré exkluzívne prináša najnovšie vydanie magazínu TRENDY BÝVANIE. Tentokrát je pozornosť upriamená na industriálny štýl a kultové bývanie, ktoré nechali vzniknúť bohémski umelci z New Yorku, Londýna a Paríža, keď svojským spôsobom zútulnili opustené fabriky a továrne. S výnimkou výhľadu na Manhattan či Champs-Élysées si loftové priestory je možné zariadiť kdekoľvek. Stačí si prelistovať stránky magazínu a oddať jednotlivé miestnosti urban dizajnu.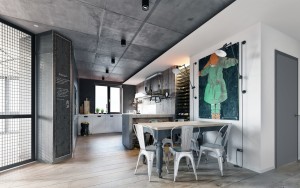 Riaditeľka vydavateľstva TRENDY media Jana Zemková ďalej upresňuje: "Čaru industriálneho dizajnu podľahnete prostredníctvom zaujímavých reportáží a príspevkov, v ktorých nájdete kľúč k industrializácii obývacej izby, recept na štýlovú kúpeľňu či príťažlivú spálňu. Hlavnú úlohu pritom budú zohrávať exkluzívne svietidlá a štýlové sedenie. Presvedčíme vás o výhodách liatej podlahy, ktorá zbaví vašu domácnosť bariér a vnesie do nej harmóniu a jednotu. Spolu s dizajnérkou Renátou Botev opäť poukážeme na dôležitosť pravidiel a zásad pri vnútornom usporiadaní bytovej architektúry a váš interiér skrotíme pomocou podmanivého schodiska. Na industriálnu vlnu naladíme aj kuchynský a varný priestor a sklu priznáme úlohu priečky, ktorá dodá miestnostiam estetickú a akustickú pohodu, no zároveň mu zachová vzdušnosť a voľnosť. Každé vydanie magazínu je tematicky zamerané na vybraný štýl dizajnu, čím sa usilujeme čitateľov vzdelávať v tejto oblasti a zároveň tak spopularizovať jednotlivé odvetvia v neodborných kruhoch."
Architektúra je v tomto čísle oslavou surových materiálov. Predstaví sa dom, kde betón zohráva úlohu genius loci a dodáva celkovému projektu estetické, ale aj energetické dispozície. Časť obsahu je tiež venovaná fasádam, ktorým tvár mesta priznal kov, perforované prvky a patinujúca oceľ nazývaná Cor-ten. Magazín ponúka pohľad na plochú strechu bez predsudkov a ukážku, ako si pristavením presklenia zväčšiť svoj obytný priestor bez náročnej rekonštrukcie. Už tradične nechýbajú zaujímavé developerské projekty a praktické rady z oblasti stavebníctva.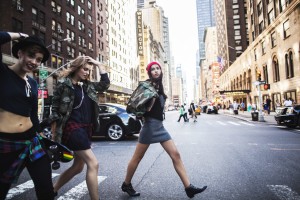 "Váš bazén, trávnik a záhradu pripravíme na zimný odpočinok a vďaka inšpiratívnym záhradkám ukrytými za múrmi mestských domov si posedíme v meste uprostred zelene. Poradíme vám tiež, ako si zriadiť terasu priamo na streche domu a dopriať si tak relax v oblakoch a stolovanie pod hviezdami. Zavítame do svetových metropol, ktoré určujú architektonické a dizajnové trendy a navštívime hostel vo Valencii nabitý dizajnovými prvkami. Už beztak pohodové čítanie vám ešte spríjemní rozhovor s motivačným koučom Petrom Betyárom a na záver váš šatník obohatíme o kúsky inšpirované urban dizajnom. Exkluzívneho spoločníka v podobe magazínu TRENDY BÝVANIE určite neodmietnete," uzatvára J. Zemková.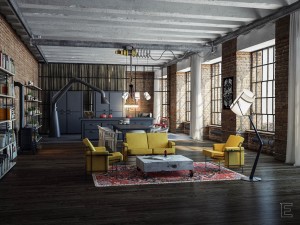 Vydavateľstvo TRENDY MEDIA už piaty rok ponúka svojim čitateľom dynamický a ambiciózny magazín, odrážajúci najnovšie trendy v oblasti bývania, architektúry, stavebníctva, dizajnu a umenia. K dispozícii je aj formou ročného printového a elektronického predplatného. V ponuke je tiež možnosť jeho doobjednania za zvýhodnenú cenu, no ak máte záujem byť pravidelne obklopovaný exkluzívnymi nápadmi a originálnym obsahom, stať sa môžete aj fanúšikom na facebookovskej stránke magazínu https://www.facebook.com/trendybyvanie/?fref=ts alebo navštíviť web www.trendybyvanie.sk.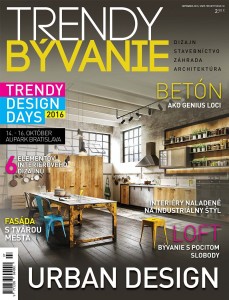 05/08/15
Zaujíma vás vaše bývanie a radi hľadáte zaujímavé inšpirácie na jeho vylepšenie? Je vašou vášňou interiér, stavba, záhrada alebo kupujete či prenajímate nehnuteľnosť. Buďte v neustálom kontakte s touto tematikou vďaka novému magazínu o bývaní.
Moje Bývanie – pravidelná dávka informácií o bývaní
Magazín Moje Bývanie vám prináša pravidelne aktualizovanú dávku informácií týkajúcich sa záujmu každého z nás – nášho bývania. Určite sami viete, že dom alebo byt si vyžaduje neustále obnovovanie tak, aby bol plne funkčný a zároveň spĺňal naše požiadavky. Aj preto nie je nikdy na škodu, ak sa udržujete v aktuálnych trendoch či vyhľadávate podnetné nápady pre zmenu. A práve tie nájdete v jednotlivých článkov nového magazínu.
Nechajte si poradiť alebo sa inšpirovať
Prinášame vám články o bývaní , stavbe, interiéri, záhrade, realitách, financovaní a stále vyhľadávame aj mnohé vychytávky či iné inšpirácie, ktoré predstavujú budúcnosť bývania. V magazíne sa napríklad dozviete ako inštalovať plávajúcu podlahu, vyberať si bazén do záhrady, ako prenajať byt, kúpiť pozemok alebo či je stavebné sporenie ešte žiadaným finančným produktom. A to nie je rozhodne všetko. Na pravidelnej báze pridávame nové články, v ktorých sa vždy snažíme priniesť zaujímavú informáciu alebo radu pre našich čitateľov. A to so základným cieľom – pomôcť im s ich problémom spojeným s bývaním, tak aby sa k nám po cennú radu vrátili opäť.
Mojebyvanie.eu sa teší na vašu návštevu
Dúfame, že si nás naši čitateľa obľúbia a nájdu v nás nielen svojho radcu, ale aj priateľa na čítanie počas voľného času. Navštívte nás aj vy na stránke Mojebyvanie.eu a prezrite si jednotlivé články usporiadané do šiestich kategórií. Tešíme sa na vašu návštevu.
09/06/15
Magazín Trendy Bývanie – časopis o dizajne, stavebníctve, záhrade a architektúre, je na trhu už tri roky. Za túto dobu si získal množstvo fanúšikov, vychádza v rozsahu 128-160 strán a jeho čítanosť dosahuje približne 100 000 čitateľov. Tento okruh zahŕňa tlačenú aj elektronickú verziu časopisu, internetový portál www.trendybyvanie.sk a Facebook stránku TrendyBývanie. Vďaka kvalitnému obsahu a spracovaniu tak jeho obľúbenosť stále rastie. Rozširuje sa počet predplatiteľov, ale aj záujemcov o objednávanie starších vydaní, napríklad celého ročníka časopisu so zľavou. Informovala o tom riaditeľka vydavateľstva Trendy Bývanie Jana Zemková.
"Narozdiel od väčšiny slovenských médií, spájame dve cieľové skupiny, laickú a odbornú verejnosť. Na jednej strane sú tak nároční zákazníci orientovaní na kvalitu a na druhej architekti, dizajnéri, developeri, hoteliéri. Časopis si kladie za úlohu popularizovať architektúru, dizajn, ale aj priblížiť verejnosti výrazné mená, ktoré síce poznajú odborníci v odborných kruhoch, ale širšia verejnosť už menej. Magazín Trendy Bývanie si dal za cieľ podporovať a motivovať mladých nádejných študentov z vysokých škôl, preto si všíma ich prácu, oceňuje a posúva ich diela verejnosti, prostredníctvom predstavovania ich prác v časopise, alebo na spoločenských akciách," povedala J. Zemková.
Dodala, že v štruktúre čitateľov prevládajú ženy (59 %), osoby s vysokoškolským vzdelaním (52 %), vo veku 25-59 rokov (57 %). Čitatelia bývajú takmer zhodne v byte (48 %) a v rodinnom dome (45 %), zaujímajú sa o bývanie a dizajn (36 %) a spôsob nadobudnutia magazínu je najmä kúpou (67 %). Väčšina čitateľov je v Bratislavskom kraji (31 %), čo je pravdepodobne spôsobené vysokou kúpyschopnosťou obyvateľov v tomto kraji.
Časopis sa nevyhýba ani charite a podporil už niekoľko charitatívnych projektov. Naposledy to bolo pri narodeninovom evente, ktorý bol spojený s podporou charity. Získané prostriedky smerovali na výstavbu I. neonatálnej kliniky v Bratislave.
,,Trendy Bývanie je partnerom najvýznamnejších podujatí na Slovensku v oblasti oceňovania osobností, architektúry a dizajnu, napríklad Stavba roka, CE.ZA.AR, Národná cena za dizajn, DAAD-Dni architektúry a dizajnu, Fasáda roka, Developer roka, Krištáľové krídlo, Drevostavba roka. Široká verejnosť má možnosť využiť i bezplatné poradenstvo na výstavách. Obrovskú návštevnosť a záujem o poradenstvo dizajnérov a architektov sme zaznamenali na tohtoročnom veľtrhu Nábytok a bývanie v Nitre, kde boli odborníci návštevníkom k dispozícií v stánku počas celého týždňa. Po prvý raz sme udeľovali vlastné ceny. Okrem zástupcu časopisu, ich vyberali aj odborníci, dizajnéri MICHAL STAŠKO, JOZEF  TUČNÝ a architektka LÝDIA JANÍKOVÁ. Cena bola udelená spoločnosti JAVORINA a ďalšia spoločnosti CREATEC," doplnila J. Zemková.
Magazín Trendy Bývanie oslávil 13. mája 2015 svoje 3. narodeniny. Oslava bola spojená s večerom dizajnu, umenia a módy. Konala v priestoroch Audi Exclusive Gallery v Bratislave a večerom sprevádzal moderátor Roman Juraško. Stretlo sa tu mnoho zaujímavých osobností z rôznych oblastí, napríklad umelci, dizajnéri či architekti, ale aj predstavitelia firiem, ktoré sa zaoberajú produktovým dizajnom a mnoho ďalších. Počas večera predstavili svoje diela, umelecké skvosty slovenskej moderny, aj významní umelci ako Gordana Turuk, Tibor Bartfay a Ľuboslav Moza. Svoju tvorbu prezentovali vybrané firmy, ako KARPIŠ, LEARDO, NARA, Bellatrix, BIS AUDIO, nádejní slovenskí dizajnéri Miroslav Truben, Tatiana Lesajová, Dušan Kočlík a Erik Vajgel, ale aj módni návrhári Róbert Vrzala a Linda Havrlíková. Hudobnú scénu, okrem audio systémov spoločnosti BIS AUDIO, obohatil aj Peter Makranský, saxofonista Marián Mráz a huslista Filip Jančík.
            Magazín sa drží motta "Print nezaostáva za webom", preto chce zachovať atraktivitu a kvality printu a výhody oproti elektronickým formám. Tlačená verzia je spracovaná modernými technickými metódami, používa kvalitný papier, vďaka čomu vyniknú fotografie , dôraz je kladený aj na pútavú grafiku a elegantný vzhľad. ,,Dizajn a kvalita však nie je všetko, čo náš magazín ponúka. Samozrejmosťou je žurnalistická práca na vysokej úrovni a optimálne vyvážený podiel inzercie. Samostatné reklamné bloky sú tematicky zapracovávané k príspevkom, alebo je reklama spracovaná vhodnými žurnalistickými technikami tak, aby sa eliminovala rušivosť, maximalizoval efekt a minimalizoval reklamný smog. Nastáva tak spokojnosť na oboch stranách, na strane  čitateľa, ktorého  reklama neobťažuje,  na strane inzerenta, lebo efektivita prezentovaných produktov ostáva zachovaná," upozornila J. Zemková.
            Trendy Bývanie je rozčlenený na tri časti. BÝVANIE A DIZAJN, ARCHITEKTÚRA A STAVEBNÍCTVO a ŠTÝL A UMENIE.    Časopis pripravuje redakčný tím, v ktorom sa spájajú dlhoročné skúsenosti a inovatívny prístup novej generácie redaktorov a ostatných členov tímu. Vydavateľstvo disponuje najkvalitnejšími fotografiami dokumentujúcimi rôznorodý životný štýl. Prostredníctvom odborných referencií poskytuje čitateľom poradenstvo, či odmeňuje verných čitateľov a uskutočňuje súťaže o atraktívne ceny  spojené (aj) s bývaním.
V najnovšom májovom vydaní magazínu sa dozviete, aké  sú aktuálne trendy bývania a architektúry v súlade s prírodou, v rubrike PORADŇA vám odporučia, na čo sa treba zamerať pri kúpe sedačky, dozviete sa aj zaujímavosti o ekologickom chladení. Zistíte, ako zariadiť spálňu podľa princípov Feng Šuej, či šetriť vodou v kúpeľni. Máte možnosť prečítať si zaujímavé reportáže, napríklad o návrate k prírode. Zaujať môže aj rozhovor s novým členom redakcie, architektom Petrom Černom, alebo článok na aktuálnu tému o nízkoenergetických domoch  a zdravom bývaní v drevostavbách.
10/03/12
Rozvoj sily – tu môžeme zvoliť metódu maximálnej sily, metódu opakovanie, dynamickú metódu a izometrické metódu. Z hľadiska bojových športov, ako napríklad taekwondo je najvhodnejšie zaradiť metódu opakovania alebo izometrické. Tieto metódy totiž často aplikujú len s váhou vlastného tela, bez záťaže. Samozrejme môžeme cvičiť aj metódou maximálnej sily, či metódami kulturistickými, avšak pre sebaobranné účely bohato postačí posilňovanie s váhou vlastného tela. Viac na Zložky kondičného tréningu.
07/02/12
Všade na internete sa rozoberajú ženské témy a problémy. Ale aby sa nezabúdalo ani na pánov, tak v novom roku vznikol nový internetový mužský magazín men.sk. Tento magazín bude prinášať mužom zaujímavé články, ktorých čítaním sa zabavia i poučia.
Magazín men.sk vám poradí napríklad v oblasti lásky, sexu a vzťahov. Na začiatok sme vám priniesli napríklad témy v ktorých sme vám poradili ako osloviť ženu, ktorá vás zaujala. A pre dobrodruhov sme priniesli aj trochu exotiky v podobe zaujímavého článku nielen o Thajsku.
Samozrejmosťou budú aj informácie so športovou tematikou. Či už pôjde o rady pri cvičení alebo nejaké nové zaujímavé športy.
V kategórii technika sa budeme snažiť priblížiť vám aktuálne novinky zo sveta počítačov, ale hlavne áut.
Ako sa vraví, zdravie je najdôležitejšie, a aj preto máme pre vás pripravenú i kategóriu zdravie. Tu nájdete rôzne informácie a rady ako si chrániť zdravie. Venovali sme sa už napríklad dobrému zraku, ale i zdravému stravovaniu.
Veríme, že množstvo mužov nájde na stránkach www.men.sk kvalitné informácie a budú nás čítať so záujmom a občas sa z našich článkov aj niečo poučia.