08/11/16
Kvalitné, veľkorozmerové, drevohliníkové okná na jeden rodinný dom dnes stoja toľko ako luxusné auto vyššej strednej triedy. Preto aj výber takýchto okien a voľba dodávateľa by sa mali riadiť podobnými pravidlami a dostatkom času. Jedným z najdôležitejších kritérií v tejto cenovej úrovni je jednoznačne kvalita. Zákazníci už nie sú ochotní robiť kompromisy a za svoje peniaze požadujú najvyšší štandard. Samozrejmosťou takýchto okien sú prírodné materiály, výberové dreviny na ich zhotovenie, dokonalé spracovanie, izolačné trojsklá, ekologické náterové hmoty, ale na požiadanie za príplatok aj zabudované alarmy, detské poistky, nerozbitné sklá a ďalšie doplnky. Ak je náročné vybrať si to správne luxusné auto, ešte náročnejšie je vybrať si správne drevohliníkové okno. Kúpa takýchto okien je doslova investíciou na celý život, pretože kvalitné okno vydrží toľko rokov ako dom. Pri tejto investícii je namieste poradiť sa s odborníkmi, ale aj so zákazníkmi, ktorí už také okná majú. Takúto  špičkovú kvalitu ponúka popredný slovenský výrobca drevených a drevohliníkových okien – spoločnosť Makrowin, s.r.o., Detva.

Riaditeľ spoločnosti Makrowin, s.r.o. Dušan Majer hovorí: "S našimi výrobkami vyjadrilo spokojnosť neuveriteľných 100 % zákazníkov, z toho veľmi spokojných bolo 86,4 % a spokojných 13,6 % respondentov. Dokonca až 100 % zákazníkov by pritom odporučilo výrobky firmy Makrowin svojim známym. Vyplynulo to z odpovedí v našom dotazníku, ktorý sme tradične rozoslali všetkým zákazníkom, ktorí si v roku 2015 zakúpili naše výrobky. Sú to priam neuveriteľne dobré čísla a patria zákazníkom, ktorí si okná už dali namontovať. Tí záujemcovia, pre ktorých bola cena vzhľadom na ich možnosti príliš vysoká si ich jednoducho neobjednali a dali prednosť lacnejšej alternatíve. Zákazníci, ktorí si naše výrobky kúpili, patria medzi tých, pre ktorých najvyššou prioritou je kvalita. pri dlhodobých investíciách sa zákazníci radia s odborníkmi a dajú aj na skúsenosti a referencie užívateľov. Zároveň pribúdajú architekti, ktorí rovno odporúčajú Makrowin. Ak uvažujete o stavbe domu, jeho rekonštrukcii alebo výmene okien za najkvalitnejšie, zoznámte sa s referenciami a parametrami okien firmy Makrowin. Nechajte si pritom dostatok času na rozmyslenie i na samotnú realizáciu tohto zámeru."
Záujem o výrobky firmy Makrowin prekonáva v posledných rokoch očakávania a preto si na nich niekedy treba počkať aj niekoľko mesiacov. Aj tu je paralela s luxusnými automobilmi, na ktoré sa tiež čaká. Pre veľký záujem trhu  Makrowin pripravuje veľkú investíciu. Plánuje počas najbližších 12 mesiacov rozšíriť výrobu o 900 m2 a zvýšiť svoje kapacity. Nové kapacity prinesú skrátenie dodacích lehôt zákazníkom a zvýšenie objemu výroby.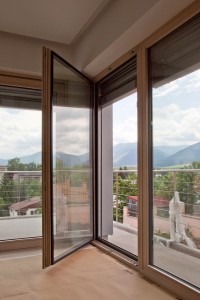 ,,Pripravujeme nákup moderných technológií, zvýšenie výroby a rozšírenie odbytu na nové trhy. Radi by sme sa viac presadili v USA aj Rakúsku. Náš rast je iniciovaný orientáciou na výrobky s vyššou pridanou hodnotou, čiže na výrobu špecifických zariadení podľa atypických požiadaviek zákazníkov, čo sa ukázalo ako správny trend. Náskok pred konkurenciou nám priniesol aj nekompromisný ťah za kvalitou. Naše okná a vchodové dvere sú pekné, moderné, s kvalitnými konštrukčnými riešeniami. Zároveň majú minimálne nároky na údržbu, dlhú životnosť a dobré tepelnoizolačné parametre," upozorňuje D. Majer.
Celkový realizačný proces pozostáva z niekoľkých fáz, počnúc výberom okien a ich návrhu až po finalizáciu v závislosti od požiadaviek zákazníka. Vlastnosti, na ktoré sa najviac prihliada pri výbere a kúpe okien, sú najmä kvalita, funkčnosť a tepelnoizolačné parametre. Dnešné drevohliníkové okná majú dlhú životnosť a nepotrebujú ani zvláštne ošetrovanie. Ak sú správne navrhnuté, vyrobené a osadené, predstavujú dobrú investíciu, ktorá sa majiteľovi rokmi vráti v podobe ušetrených nákladov v zime na kúrenie a v lete v kombinácií s exteriérovým tienením na chladenie.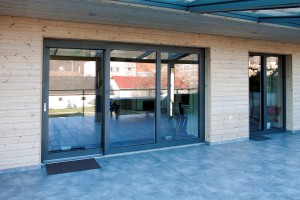 "Zastrešujeme kompletný servis, od zamerania okien na stavbe, až po ich distribúciu, pričom celú výrobu a dodávky riadime priamo z Detvy. Prvým krokom je zameranie na stavbe po ktorom nasledujú dlhé konzultácie so zákazníkmi i architektom, kde sa snažíme podchytiť všetky podstatné detaily na stavbe. Následne dohodneme montážne diely i to, ako bude vyzerať celá stavebná príprava. Počas celej zákazky sprevádzame zákazníka daným procesom, keďže každé okno musí byť jedinečné, so špecifickým rozmerom, farbou, typom skla i kovania. Celý proces je zakončený samotnou montážou. O našich zákazníkov sa staráme dlhodobo, s montážnymi prácami a servisom je podľa našich štatistík spokojných až 86 % zákazníkov," konštatuje D. Majer.
Pozitívnu skúsenosť s oknami značky Makrowin má aj slovenský architekt Fero Lehocký: "Sme zvyknutí projektovať domy pre náročných klientov, pre ktorých je potrebné zabezpečiť aj požadovanú kvalitu. V prípade požiadavky na kvalitné drevené alebo drevohliníkové okná im rovno odporúčam Makrowin, pretože viem, že dodajú kompletný servis." Rovnako sa pridáva aj američan Steven Baczek, architekt z Bostonu v Massachusetts: "Makrowin okná sú jedny z najlepších okien, s ktorými som kedy pracoval. Ich výnimočná krása v kombinácii s bezkonkurenčnými vlastnosťami z nich robí jasnú voľbu."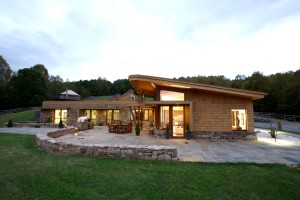 Prečo by si teda zákazníci mali vybrať práve výrobky od spoločnosti  Makrowin? Pre ich najvyššiu kvalitu, trendovosť a inovatívnosť, spokojnosť zákazníkov, ale aj vynikajúce referencie od odberateľov, dodávateľov a projektantov. Makrowin v súčasnosti vyrába 23 produktov drevených a drevohliníkových okien, čo je najširšia ponuka takýchto okien na Slovensku. Vyrába aj presklené posuvné dvere a je dodávateľom doplnkov k oknám, akými sú interiérové a exteriérové parapetné dosky, siete proti hmyzu, interiérové a exteriérové tienenie. Firma je dlhoročným členom Zväzu spracovateľov dreva SR a držiteľom certifikátu systému manažérstva kvality.
Viac informácií je na: www.makrowin.sk, alebo na tel: +421 45 5455346,
e-mail: info@makrowin.sk
23/05/16
Mať domácu pracovňu môže byť skvelý spôsob, ako zostať produktívnym, a práve to je pre mnoho ľudí nepostrádateľné. Avšak aj vaše pracovné prostredie môže ovplyvniť vašu produktivitu alebo prokrastináciu. Pri správnom výbere zo širokého sortimentu kancelárskeho nábytku môže byť vaša domáca pracovňa to najlepšie miesto na dokončenie práce – či už je to práca, ktorú ste si zobrali domov z kancelárie, začiatok vášho románu alebo začiatok úplne novej kariéry.
Výber miestnosti, ktorú budete využívať ako domácu pracovňu je prvým krokom. Najideálnejšia je izba s množstvom denného svetla, v ktorej môžete byť tak izolovaný od zvyšku domu, ako sa to len dá. Ak ide o produktivitu, mať vlastnú pracovnú miestnosť je to najlepšie, ale predelenie obývačky priečkou môže byť taktiež účinné. Ak je to vôbec možné, nikdy nepoužívajte spálňu, pretože to bude v rozpore s vašimi spacími a pracovnými návykmi -štúdie znovu preukázali, že je najlepšie nechať spálňu, aby bola miestom pre spánok a odpočinok s čo najmenším počtom rozptýlení.
Ďalší krok je výber toho správneho stola.
Do menších priestorov sú vhodné písacie stoly v kancelárskom štýle, ktoré majú dostatok vertikálneho priestoru na odkladanie a organizovanie. Tí, ktorí majú k dispozícii väčšie priestory a potrpia si na luxus, si môžu zadovážiť kvalitný písací stôl, ktorý má dostatok priestoru pre organizáciu. Samozrejme, že ak je väčšina vašej práce na počítači a nepotrebujete toľko uložného priestoru, potom je počítačový stôl tá najlepšia voľba. Všetko závisí na vašich požiadavkach a na veľkosti vašej pracovnej mestnosti.
Akonáhle si vyberiete stôl, na rad prichádza kancelárska stolička. Samozrejme, že pohodlie by malo byť hlavnou prioritou, no štýl je rovnako dôležitý. Veľmi atraktívna je koža a kožené stoličky sú často veľmi pohodlné, akonáhle sa zahrejú na telesnú teplotu, no ich udržiavanie je náročnejšie. Sieťovina je robustná, trvácna a veľmi priedušná, ale často nemá také odpruženie ako iné kusy nábytku. Látkové stoličky so svojím pevným komfortom sú často tou najlepšou voľbou pre vašu domácu pracovňu, no nie všetky sú až tak mäkké. Je dôležité, aby ste sami vyskúšali rôzne stoličky a zistili, ktorá vám najviac vyhovuje.
Akonáhle máte základy, môžte začať zdobiť a pridávať doplnky. Samozrejme, poličky a skrinky sú skvelou voľbou nielen preto, že si budete môcť odkladať referenčný materiál, ale taktiež dodajú vašej miestnosti profesionálnejší vzhľad. Najlepšie je vyhnúť sa príliš veľkým rozptýleniam, avšak niektoré obrazy môžu dodať vašej miestnosti upokojujúci nádych. Všetko je to otázka osobného vkusu.
Vďaka vašej vlastnej, perfektnej domácej pracovni môžte produktívne pracovať v pohodlí vášho domova. Zrazu pre vás bude ťažké vrátiť sa do normálnej kancelárie!
30/10/15
Určite už premýšľate, ako strávite tento rok Silvestra. Chcete niečo netradičné? Čo tak stráviť Silvestra oddychom v luxusných kúpeľoch? Takúto možnosť ponúkajú  Kúpele Rajecké Teplice. Návštevníkov sem láka okrem krásneho ubytovania v antickom štýle a liečivej termálnej vody aj príjemné prostredie parku a okolia Rajeckých Teplíc. Preto ak máte záujem o silvestrovský pobyt je na rezerváciu najvyšší čas. Kúpele okrášlila v tomto roku v septembri nová päťhviezdičková časť hotela APHRODITE PALACE ***** , ktorá si vyžiadala investície vo výške cca 1,1 milióna Eur je určená pre najnáročnejších klientov. Koncept nadväzuje na hotel APHRODITE PALACE****, ktorý bol uvedený do prevádzky vlani a na jeho výzdobu boli opäť použité materiály mramor, ónyx, zlato.
Viceprezident SLK (Slovenské liečebné kúpele),a.s., Rajecké Teplice Zdenko Miškolci k tomu hovorí: "O silvestrovské pobyty  je vždy veľký záujem. Tohtoročný silvestrovský pobyt je v ponuke minimálne na 4 noci a cena zahŕňa ubytovanie, polpenziu a procedúry. Tento rok sme ponuku rozšírili o najluxusnejšie apartmány v novej päťhviezdičkovej časti hotela APHRODITE PALACE. Na svoje si však príde každý.  Hostia si môžu vybrať ubytovanie v zariadeniach Aphrodite**** , Aphrodite Palace**** , Villa Flóra***,  Villa Margaréta*** a Malá Fatra***. Pri ubytovaní v hoteli Aphrodite, Aphrodite Palace a v apartmánoch Villa Margaréta a Villa Flóra, majú voľný vstup do vodného sveta, saunového sveta a fitness. Cena vianočného menu 24. 12. 2015 je 40 eur na osobu a príplatok za silvestrovský večer je 80 eur na osobu. Pre klientov, ktorí nemajú objednaný Silvestrovský relaxačný pobyt a pre verejnosť je cena 100 eur. V hoteli Malá Fatra***,  Ville Flóra***  a Ville Margaréta*** sa ceny pobytov pohybujú od 59 eur na osobu a noc. Počas silvestrovského galavečera sa už budú môcť hostia zabaviť i v nových priestoroch Cabaret Baru Aphrodite a v eventovej hale Apolón. Cabaret Bar Aphrodite plánujeme uviesť do prevádzky v priebehu decembra v hoteli Aphrodite Palace."
Ďalej doplnil, že pre hostí Aphrodite, Aphrodite Palace (okrem izieb Štandard), apartmánov Villa Margaréta a Villa Flóra sú pri pobyte na 7 nocí pripravené rôzne procedúry. Sú nimi 1x whirlpool + masážna posteľ, 1x biarritz, 1x olejový perličkový kúpeľ, 2x klasická masáž /30 min./, 1x aroma olejová masáž /30min./, 1x vibrosauna, 1x reflexná masáž chodidiel /30 min./, 1x masáž lávovými kameňmi /45 min./, 1x bambusová masáž / 45 min./. Zároveň majú voľný vstup do vodného sveta, saunového sveta a fitness. Pre hostí Aphrodite Palace izby Štandard na 7 nocí sú to procedúry 2x klasická masáž /30 min./, 1x perličkový kúpeľ, 1x uhličitý kúpeľ, 3x Whirlpool + masážna posteľ a voľný vstup do vodného sveta, saunového sveta a fitness. Ak sa ubytujete v Hoteli Malá Fatra, Ville Flóra alebo Ville Margaréta, tak pri pobyte na 7 nocí sú pre vás pripravené procedúry 2x saunový svet 3 hod., 5x vodný svet 3 hod., 2x klasická masáž /30 min./, 1x perličkový kúpeľ, 1x uhličitý kúpeľ, 3x whirlpool + masážna posteľ.
V ponuke kúpeľov sú aj ďalšie atraktívne pobyty, ktoré môžete čerpať počas roka. Liečebný pobyt De Luxe od 745,- € na osobu a 7 nocí, liečebný program Preventívny balík od 418,- € na osobu a 5 nocí s procedúrami. Alebo Relax CLASSIC 2015 od 167,- € na osobu a 2 noci, Relax EXCLUSIVE 2015 od 193,- € osoba / 2 noci, Aphrodite Beauty od 211,- € osoba / 2 noci, Relax SPA SENSATION 2015 od 239 € osoba / 2 noci, alebo Ubytovanie s raňajkami od 100,- € osoba / 2 noci.
Kúpele Rajecké Teplice patria k najobľúbenejším kúpeľom pre samoplatcov. Poskytujú aj široký rozsah wellness služieb, víkendových wellness pobytov a kúpeľnej liečby. Rajecko-teplická termálna liečivá voda má certifikované liečebné účinky. V Rajeckých Tepliciach sa liečia pohybové, dýchacie choroby (astma) a choroby z povolania. Najväčšou pýchou kúpeľov je luxusný štvorhviezdičkový kúpeľný hotel APHRODITE PALACE, ktorý bol otvorený v júni minulého roku. Tento luxusný hotel, situovaný v centre kúpeľného mestečka, má vlastnú kulinársku reštauráciu. Spojený je premostením priamo s kúpeľným domom v antickom štýle APHRODITE, v ktorom absolvujú hostia všetky procedúry. Tento kúpeľný dom je hlavným lákadlom pre domácich i zahraničných návštevníkov. Hotel vznikol komplexnou prestavbou bývalého hotela Veľká Fatra, ktorá trvala dva roky. Hotelu dominuje veľkolepá štýlová lobby a reštaurácia zdobená mramorom, ónyxom a 24-karátovým zlatom. APHRODITE PALACE má vynikajúce centrálne umiestnenie. S kúpeľným domom APHRODITE hotel spája presklené premostenie, vďaka ktorému prejdú hostia "suchou nohou" priamo k vodnému a saunovému svetu, či špičkovo vybavenému centru krásy Beauty Aphrodite.
Viac informácií je na www.spa.sk
Centrálne rezervačné oddelenie: Tel.: +421 41 5494 256-7, E-mail: spa@spa.sk
21/11/12
Dekoratívne maliarske techniky sú maľby vykonané farbou priamo na stenu, namiesto obrazu, kameňa či tapety. Nemusí to byt vždy vytvorený obraz alebo vzor, ale môže to byť aj textúra vytvorená farbou alebo štruktúra vytvorená omietkou. Maliarske techniky sa líšia podľa typu nanášania, druhu nanesenej dekoračnej farby a veľkosti, od malého motívu na nejakej časti v interiéry cez celé steny v miestnosti. Niektoré sú jednoduché a zvládne ich aj zručný maliar, iné techniky musia vytvoriť kvalifikovaný profesionáli.
A práve toto bolo inšpiráciou pre vytvorenie Prvého Maliarskeho Štúdia na svete. Našou víziou pre budúci dizajn je vytvoriť miesto, kde si budete môcť vybrať z miliónov dekoračných stien z celého sveta od rôznych dizajnérov, výrobcov dekoračných farieb a z rôznych materiálov, ktoré si ani neviete predstaviť na Vašich stenách.
Prínosom dekoratívnych malieb je, že vytvárajú alternatívnu náhradu drahých materiálov ako sú kamene, obklady, tapety a nástenné obrazy ktorých cena za materiál a prácu nie je vždy adekvátna kvalite a výzoru. To tiež umožňuje prispôsobenie individuálneho návrhu namiesto hľadania dokonalého obrazu alebo materiálu. Väčšina z nás sa chce odlíšiť od klasických vymaľovaných stien, alebo od stereotypu, ktorý majú v domácnostiach ostatný ľudia, buď luxusom alebo originalitou. Veľakrát sa stáva že milionári v luxusných domoch po celom svete majú klasicky namaľované steny, tapety alebo bežne dostupné materiály, ktoré si môže kúpiť každý piaty človek na svete. Preto originalita na dekoračných stenách je jedinečná, lebo techniky sa nedajú zopakovať rovnako.
Momentálne máme v ponuke cez tisíce návrhov stien, ktorých majitelia budú môcť tvrdiť, že majú na stene originálne dielo ako jediný na svete.
Uplatnenie dekoračných techník je vhodné ako pre interiér tak aj pre exteriér. Najčastejšie sa realizujú v domoch a bytoch vo verejných priestoroch recepciách hoteloch a firmách. Prvým krokom bude rozhodnúť sa pre miesto, kde chceme techniku umiestniť, či už na malých súčastiach v interiéri ako sú stĺpy, múriky, police, krby, toalety, alebo namiesto kuchynského obkladu, cez celé steny v obývacej miestnosti, spálňach, detských izbách, chodbách a iných súčastiach interiéru, alebo do kúpeľní, verejných priestorov, exteriérových stien domu kde sa kladie dôraz na odolnosť, vlhkosť a poveternostné vplyvy.
Najdôležitejšie je, rozhodnúť sa pre druh materiálu a zvoliť správny výzor a funkciu techniky. V prvom rade sú štruktúry, plastiky rôzne reliéfy, pri ktorých je na stenu nanesený materiál ako sú omietky, sadry, dekoračné hmoty rôznych zrnitostí. Vzhľad textúry môže byť akýkoľvek, buď tvorený špachtlou, hobľom, dekoračnými nástrojmi. Po vytvrdnutí sa väčšinou maľuje jednou, či viacerými farbami, alebo už v sebe obsahujú farebný pigment. V Maliarskom Štúdiu ich máme pod názvom 3D štruktúry, sme jedinou bez konkurenčnou firmou v štruktúrach na celom svete.
Dosť obľúbeným materiálom sú techniky nanesené špeciálnym hobľom, ako Stucco Veneziano, Marmorino a mnoho ďalších. Môžu byť lesklé, matné, s hodvábnym vzhľadom. Vytvárajú jedinečný estetický efekt pripomínajúci štukové omietky v starých benátskych palácoch, alebo môžu vyzerať ako imitácia betónu. Variabilná škála finálnych vizuálnych efektov je závislá od spôsobu aplikácie a zručnosti dekoratéra.
Ďalším plastickým efektom môže byť materiál nanesený v tvare travertínu, štruktúry piesku, bridlice, či imitácia kameňov. Dosť zaujímavé sú aj imitácie kôry, alebo kože zvierat ako hadia, slonia, leopardia, tigria či od žirafy, zebry a krokodíla. Farebnosť povrchov je potom rôznorodá.
Po štruktúrach sa najčastejšie aplikujú dekoračné farby, ktoré ľahkým a rýchlym spôsobom umožňujú vytvoriť neobmedzenú škálu farebných úprav, elegantných štruktúr a tvorbu jemných rýh podľa náradia, ktorým sa nanesú ako napr. imitácia menčestru, pokrčený papier. Alebo obsahujú rôzne viditeľné čiastočky skla, perlete, zlata, striebra, bronzu, kovu aj kovovo zoxidované efekty. Farby, ktoré oslnia váš priestor ako sú metalická, zlatá, strieborná, medená, grafitová s perleťovým alebo zamatový efektom, skorodovaný efekt kovu alebo farba, ktorá ponúka špeciálne žiariace piesočné efekty, rôzne antické efekty, imitácia zeminy, so špeciálnymi starými efektmi, ktoré pripomínajú dekorácie vo vidieckych domoch talianskej renesancie. Najznámejšie jednoduché techniky zahŕňajú použitie ľubovoľnej základnej farby, potom následne vytvorené obrazce glazúrou a rôzneho náradia s technikou napr. vlhkou špongiou, tupovaním, rozmývaním …
Dôležitou súčasťou techník sú ich vlastnosti ako oteru vzdornosť, trvácnosť, udržanie farebnej stálosti, plná vode odolnosť a mnoho ďalších funkcií. Medzi špeciálne farby patria neónové svietiace vo tme alebo vodivý náter pre odtienenie elektrosmogu vnútornom prostrediu.
Keď v budúcnosti budete meniť výzor vášho interiéru nezabudnite sa pozrieť na naše stránky a inšpirovať sa stenami z celého sveta. Radi vám poradíme a vytvoríme originálne diela len pre vás.