23/06/17
Od polovice júna začal slúžiť verejnosti nový, dvestometrový úsek pešej zóny v kúpeľnom areáli v Luhačoviciach vedúci od pieskovej plochy pri hoteli Jurkovičov dom smerom do centra mesta. Slávnostné otvorenie prebehlo vo štvrtok večer 22. júna pred začatím koncertu Hudby Hradnej stráže a Polície ČR za účasti hajtmana Zlínskeho kraja Jiřího Čunku, starostky Luhačovíc Marie Semelovej, generálneho riaditeľa akciovej spoločnosti Kúpele Luhačovice Eduarda Bláhu a Milana Veleckého, zástupcu realizačnej firmy 3V&H. Informoval o tom výkonný riaditeľ kúpeľov Ing. Jiří Dědek, MBA.
"Po nedávno dokončenej revitalizácii kúpeľného parku, ktorá sa týkala zelene, začala akciová spoločnosť Kúpele Luhačovice na jar projekt rekonštrukcie spevnených plôch v kúpeľnom areáli. Predmetom prvej etapy bol frekventovaný úsek pešej zóny vedúci od hotela Jurkovičov dom pozdĺž rieky Šťávnica. Pri použití rovnakého povrchového materiálu sa tak plynule nadviazalo na pešiu zónu ulice Dr. Veselého vedúcu do centra mesta. Nový povrch získali tiež chodníky medzi Inhalátoriom a Jurkovičovým domom. Nahradené boli aj dlhoročné lavičky novými. V spolupráci s mestom Luhačovice bolo navyše obnovené verejné osvetlenie. Predĺženie pešej zóny je tak ďalším príspevkom akciovej spoločnosti na zvýšenie atraktivity celého kúpeľného územia," uviedol J. Dědek.
Velecký k tomu dodal: "Sme veľmi radi, že sa celé dielo podarilo dokončiť presne podľa plánu len za tri mesiace. Včasná realizácia tohto projektu bola pre nás prioritou." Projekt bol plne financovaný z prostriedkov Kúpeľov (Lázní) Luhačovice, a. s., a celkové náklady dosiahli 10,2 mil. Kč, vrátane DPH.
"Len o pár dní neskôr, na konci júna, bude dokončená naviac ešte jedna časť spevnených plôch v kúpeľnom areáli. Na mieste pôvodnej cesty pozdĺž Kúpeľnej polikliniky od cukrárne po parkovisko vznikne nová komunikácia so šírkou piatich metrov a zároveň aj pešia zóna zhotovená z kvalitnej pojazdnej dlažby. S výnimkou osvetlenia, ktorého obstaranie financovalo mesto Luhačovice, je aj táto časť rekonštrukcie plne hradená akciovou spoločnosťou Kúpele Luhačovice. Celková suma dosiahla 2,5 mil. Kč, vrátane DPH," konštatoval J. Dědek.
Dokončenie modernizácie energetického hospodárstva
Kúpele Luhačovice, a.s., dokončili aj práce spojené so zásadnou modernizáciou energetického hospodárstva spoločnosti. Projekt sa začal v auguste 2016 a bol ukončený podľa plánu na konci apríla 2017. Základom bolo nahradenie centrálneho rozvodu pary horúcou vodou v objektoch na Kúpeľnom námestí spoločne s detskými liečebňami. Cieľom bol prechod na novú, efektívnejšiu technológiu a po viac ako päťdesiatich rokoch nahradenie už dosluhujúceho parovodu.
Prepojenie z pary na horúcu vodu úspešne prebehlo už 12. 1. 2017. Od tej doby teplovod, odovzdávacie stanice tepla aj nové vnútorné rozvody v spoločenskom dome, Kúpeľnej poliklinike aj v Kúpeľnom divadle fungujú bez problémov. Včas bola dokončená aj prestavba druhého kotla v centrálnej výhrevni. Upravené boli tiež spevnené a trávnaté plochy.
Nový systém je teraz nielen ekonomicky výhodnejší, šetrnejší k životnému prostrediu a jednoduchšia je aj regulácia tepla v jednotlivých objektoch. Náklady na realizáciu dosiahli 66 mil. Kč, vrátane DPH.
Kúpele Luhačovice sú dlhodobo najnavštevovanejšími moravskými kúpeľmi. Nachádzajú sa v lone krásnej prírody a lákajú návštevníkov nielen svojimi liečebnými a wellness pobytmi či perfektnými službami, ale aj neopakovateľnou architektúrou Dušana Jurkoviča a výnimočnými minerálnymi vodami na čele s Vincentkou. Kúpele poskytujú kvalitnú, komplexnú starostlivosť o pacientov s ochorením dýchacích ciest, pohybového aparátu, tráviaceho ústrojenstva, látkovej výmeny (cukrovka), obehového ústrojenstva a onkologické ochorenia. Luhačovice sú ideálnym miestom pre relaxáciu, ponúkajú wellness víkendy aj relaxačné pobyty pre všetky vekové kategórie.
Ďalšie informácie sú na webových stránkach www.LazneLuhacovice.cz, www.HotelAlexandria.cz
21/06/17
Pre zdravotné doplnky a lieky sú prijaté veľmi prísne predpisy. Týkajú sa ich skladovania, užívania, životnosti, atď. Je samozrejmosťou, že predpisy treba dodržiavať. Dobré je však aj vedieť, či v prípade núdze môžeme použiť aj nejaký prípravok po dobe spotreby uvedenej na jej obale. Jednou z mála výnimiek, kedy je to možné, je minerálna voda Vincentka. Je plnená do tmavých fliaš a odporúča sa jej skladovanie v tme. Na obale má uvedenú záručnú dobu dva roky od plnenia, čo je maximálna povolená doba pre akékoľvek minerálky.
Jan Šumšal, riaditeľ spoločnosti Vincentka, a. s., vysvetľuje: "Uvedená doba spotreby je stanovená s ohľadom na extrémne podmienky skladovania, napríklad aj v regáloch predajní vystavených svetlu a v blízkosti vykurovacích telies. Čiže aj takto nevhodne skladovaná Vincentka je po dvoch rokoch  použiteľná. Ak ju si však kúpite krátko po naplnení priamo u nás v plniarni v Luhačoviciach či v akcii v supermarkete a uskladníte ju doma v špajzi alebo pivnici pri stálej teplote a v tme, jej použiteľnosť je prakticky neobmedzená. Vincentka je bez baktérií, či vírusov a neobsahuje žiadne organické látky, ktoré by sa mohli skladovaním rozkladať. Proces jej plnenia do fliaš z vrtu je sterilný. Dokonca sa z nej odstraňuje filtrovaním aj železo, ktoré by sa mohlo vyzrážať na dne fľaše a spôsobovať zákal. Svojim zložením je Vincentka vlastne slabou kyselinou hydrouhličitou a tak vytvára prostredie v ktorom mikroorganizmy nemajú šancu na prežitie. Keďže je Vincentka zbytkovou morskou vodou z pravekého mora uzavretého v lagúne pod Luhačovicami milióny rokov, už dávno sa stala sterilnou. Navyše ju ešte filtrujú vrstvy hornín na jej ceste nahor, v ktorých sa obohacuje o mikrostopové prvky, oxid uhličitý a riedi sa obyčajnou podzemnou vodou."
Dodáva, že Vincentka prežila za socializmu aj drastické balenie do PVC. Tento obal vynašli ,,súdruhovia z NDR" a bol pre potraviny a aj Vincentku nevhodný. Vincentke najviac svedčí tmavé sklo a skladovanie v tme Do fliaš sa plní už od roku 1820. V roku 1851 bola pri prameni Vincentky postavená prvá plnička a skladisko fliaš. Toho istého roku sa z Luhačovíc vyviezlo 160 000 ks fliaš s obsahom 1,5 l. V rokoch 1946 – 1949 pri výstavbe novej kúpeľnej kolonády sa súčasne vybudovala úplne nová budova plniarne s najmodernejšími plniacimi linkami tej doby. Ročne sa tu potom naplnili necelé 2 milióny fliaš. V súčasnosti spoločnosť Vincentka, a. s., ročne predáva viac než štyri milióny fliaš Vincentky s obsahom 0,7 litra. Meno Vincentka pochádza od grófa Vincenta (z rodu Serényiovcov), ktorý dal v Luhačoviciach koncom 18. storočia postaviť prvé liečebné a ubytovacie zariadenia. Názov Vincentka sa objavil v roku 1792.
Vincentka je minerálna voda, ktorá vyviera v Kúpeľoch Luhačovice. Je to mineralizovaná, jódová uhličitá voda z prírodného liečivého zdroja, hydrogénuhličitano-chlorido-sodného typu, so zvýšeným obsahom fluoridov a kyseliny boritej, je studená a hypotonická. Obsahuje veľké množstvo chemických prvkov (ióny sodíka, draslíka, vápnika, lítia, horčíka, fluóru, chlóru, jódu a železa) a taktiež biogénne prvky. V súčastnosti sú známe tri pramene nesúce meno Vincentka – Vincentka, Nová Vincentka (od roku 1991 slúži na stáčanie do fliaš) a Vincentka 2. O jej využitie sa starajú dve spoločnosti – Kúpele Luhačovice, ktoré majú práva na kúpeľný spôsob využívania a akciová spoločnosť Vincentka, ktorá má práva na jej plnenie do fliaš a predaj.
Liečivé účinky Vincentky sú známe už po stáročia. Svojim zložením je prospešná pri liečbe rôznorodých ochorení, umožňuje rozpúšťanie hlienov v dýchacích cestách, žalúdku a črevách. Je tiež odporúčaná na pitné a inhalačné kúry pri ochoreniach dýchacích ciest, hlasiviek, pri chorobách látkovej výmeny, vredovej choroby žalúdka, dvanástnika a ich pooperačných stavoch, pri chronickom zdurení pečene, diabete mellitus, chronickej pankreatitíde. Je však vhodným doplnkom aj pre zdravého človeka, pomáha regenerovať vnútorné prostredie tela po nadmernej fyzickej aktivite (strate potu) – napríklad športe. Taktiež pomáha harmonizovať metabolizmus po nadmernom požití alkoholu, je prevenciou proti zubnému kazu u detí (0,25 l denne) a je vhodná ako prírodný doplnok výživy pre deti, tehotné ženy a rekonvalescentov. Počas peľovej sezóny ju ocenia najmä alergici, ktorým jej aplikácia prináša značnú úľavu, pretože pomáha k obnove prirodzeného prostredia nosných slizníc a zlepšovaniu dýchania.
Minerálna voda Vincentka a rad produktov vyrobených na jej báze sa radia medzi najobľúbenejšie luhačovické suveníry. Dostať ich nielen v obchodíkoch na kolonáde, ale prakticky v celom meste a okolí. Dokonca Vincentku v 0,7 l fľašiach pre veľký záujem predáva aj samotná akciová spoločnosť Vincentka priamo vo svojej administratívnej budove v Luhačoviciach. Návštevníci si ju odnášajú v celých kartónoch, ktoré si dávajú do kufrov áut pri odchode z Luhačovíc. Robia tak po skončení liečenia, alebo sa tu zastavia počas návštevy Luhačovíc. Vincentka sa tam predáva zhruba za polovicu ceny, za akú je možné ju dostať v predajniach, či lekárňach v ČR.
Viac informácií je na www.vincentka.cz.
10/05/17
Trojdňovým pásmom programov Otváranie prameňov začnú Kúpele (Lázně) Luhačovice, a.s. tohtoročnú Kúpeľnú sezónu v piatok 12. mája. Slávnosti vyvrcholia posvätením prameňov v nedeľu 14. mája. V sobotu nebude chýbať tradičný priamy prenos rozhlasového programu Tobogan (11.00 hod.) s Alešom Cibulkom, koncert skupiny AG Flek na Kúpeľnom námestí od 16.00 hod. a jarmok ľudových remesiel. V nedeľu to bude slávnostná svätá omša od 10.00 hod. a po nej posvätenie prameňov. Sviatočný deň vyvrcholí popoludňajším vystúpením folklórnych súborov o 15.00 hod. Informuje Ing. Jiří Dědek, MBA, výkonný riaditeľ Kúpeľov Luhačovice, a. s.
"Hlavné kúpeľné kapacity máme na tento termín vypredané. Na otvorení sezóny očakávame tradične vysokú účasť kúpeľných hostí, stoviek návštevníkov z okolia a slovenských návštevníkov, ktorí to sem majú blízko. Všetkých potešia dobové kostýmy, historické automobily, bicykle a pestrý program. Svätenie prameňov sa uskutoční v nedeľu dopoludnia, hneď po slávnostnej svätej omši v kostole svätej Rodiny. Trasa povedie tradične od prameňa svätého Jozefa cez Ottovku až ku kaplnke svätej Alžbety. Počas celého dopoludnia ožije kúpeľný park vystúpeniami folklórnych súborov pri prameňoch, ktoré sa následne predstavia v hlavnom popoludňajšom programe o 15.00 hod. na Kúpeľnom námestí. Programy sú voľne prístupné verejnosti," povedal J. Dědek.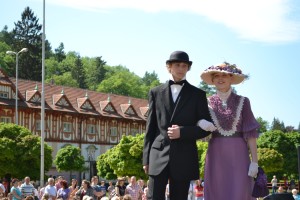 Aj tento rok bude bohatý kultúrny program
Neoddeliteľnou súčasťou kúpeľných pobytov je vyplnenie voľného času. Kúpele vždy boli a zostali centrom spoločenského života a bohatého kultúrneho diania. Popri liečebnej tak plnia aj ďalšie významné funkcie v prospech klientov i obyvateľov regiónu. Kúpele Luhačovice, a. s., sú najväčším súkromným organizátorom verejného kultúrneho programu v Luhačoviciach. Aj tento rok pripravujú v Kúpeľnom divadle celý rad relácií dramatického, i hudobného žánru, ku ktorým patrí predovšetkým prestížny Festival Janáček a Luhačovice (17. – 21. 7. 2017).
Tento rok sa tu predstaví filharmónia Bohuslava Martinů a husľový virtuóz Ivan Ženatý, svetová mezzosopranistka arménskeho pôvodu Julietta Galstian s excelentným tenoristom Alešom Brisceinom, hosťujúcim na popredných svetových operných pódiách, Slovenský komorný orchester Bohdana Warchala, ktorý slávi úspechy na významných festivaloch, česká sopranistka svetového formátu Martina Janková, pôsobiaca ako sólistka opery vo švajčiarskom Zürichu, ktorá sa predstaví spoločne s vynikajúcim klaviristom Ivom Kahánkom a súborom Ensemble Flair a v neposlednom rade medzinárodne uznávaná varhaníčka, cembalistka a skladateľka Kateřina Chroboková, známa pod umeleckým menom KATT, ktorú sprevádza komorný orchester Filharmónie Bohuslava Martinů.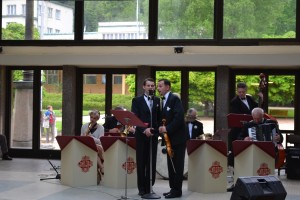 Dramaturgia Kultúrneho leta ponúka renomované divadelné súbory a herecké osobnosti, spevácke divy či sólistov a orchestre. Veľkej pozornosti a obľúbenosti sa tiež teší Akadémia Václava Hudečka, ktorá tento rok vstúpi do svojho 21. ročníka (31. 7. – 11. 8.). Svojich stálych priaznivcov má prehliadka komornej divadelnej tvorby Divadelnej Luhačovice, ktorej kmotrom tento rok bude herec Emil Horváth ml. Termín prehliadky je od 20. do 26. augusta. Stále miesto v programe má tiež Luhačovické rezbárske sympózium, ktorého termín bude od 5. do 10. júna. Predĺžený víkend od 15. do 17. júna bude už po piatykrát patriť Luhačovickým divadelným stretnutiam, počas ktorých sa predstavia tri amatérske divadelné súbory z Českej republiky, Slovenska a tento rok mimoriadne i Rakúska. Český divadelný spolok z Viedne sa predstaví s po česky hraným predstavením Skrotenie zlej ženy. Od 6. do 9. septembra rozoznie Luhačovice krásna a mäkká slovenčina počas 5. ročníka Dní slovenských kultúry.
Príjemnú pohodu a odpočinok nájdu hostia pri Kolonádových koncertoch, ktoré rozoznievajú v letnom období Kúpeľné námestie. Prežité chvíle pri koncerte Hudby Hradnej stráže a Polície ČR s ukážkou vystúpenia čestnej jednotky Hradnej stráže (22. 6.) alebo krojovanej dychovej hudby Vlčnovjanka či vyhláseného Dixieland Jazzzubs a ďalších orchestrov patria určite k pekným zážitkom. Svoje čaro má aj Klobúkový deň (10. 9.), ktorý organizuje Luhačovický okrášľovací spolok Calma. V mimosezónnom období pripravujú kúpele ponuku klubových programov v Night clube hotela Alexandria****, kde sa zároveň po celý rok usporadúvajú pravidelné tanečné večery.
Bližšie informácie na www.lazneluhacovice.cz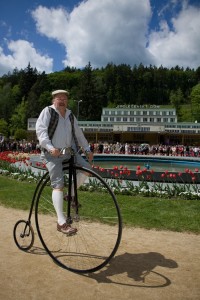 Aktuálna ponuka kultúrnych podujatí v Luhačoviciach
máj – september

KOLONÁDNE KONCERTY

5. – 10. 6. 2017

LUHAČOVICKÉ REZBÁRSKE SYMPÓZIUM (5. ročník)

15. – 17. 6.2 017

LUHAČOVICKÉ DIVADELNÉ STRETNUTIE

Prehliadka ochotníckych divadelných súborov (5. ročník)

21. 6. 2017

MEDZINÁRODNÝ DEŇ HUDBY (2. ročník)

22. 6. 2017

HUDBA HRADNEJ STRÁŽE A POLÍCIE ČESKEJ REPUBLIKY

17. – 21. 7. 2017

FESTIVAL JANÁČEK A LUHAČOVICE (26. ročník)

31. 7. – 11. 8. 2017

AKADÉMIA VÁCLAVA HUDEČKA  (21. ročník)

21. – 26. 8. 2017

DIVADELNÉ LUHAČOVICE

Prehliadka komornej divadelnej tvorby (19. ročník)

6. – 9. 9. 2017

DNI SLOVENSKEJ KULTÚRY

Prehliadka slovenského folklóru, divadla a hudby (5. ročník)

10. 9. 2017

KLOBÚKOVÝ DEŇ

s Luhačovickým skrášľovacím spolkom Calma

15. – 19. 9. 2017

MEDZINÁRODNÝ FESTIVAL DETSKÝCH FOLKLÓRNYCH SÚBOROV PIESŇOU A TANCOM
(25. ročník)

27. 12. 2017 – 2. 1. 2018

SILVESTROVSKÝ POBYT
30/03/17
Piate víťazstvo v doterajších šiestich ročníkoch súťaže Czech Hotel Awards zaznamenal wellness hotel Alexandria****, patriaci akciovej spoločnosti Kúpele (Lázně) Luhačovice, v kategórii najlepších Spa & Wellness hotelov v Zlínskom kraji. Slávnostné vyhlásenie výsledkov sa uskutočnilo v utorok 28. 3. 2017 v Prahe za účasti niekoľkých stoviek hotelierov, odborníkov z oblasti hotelierstva a médií. Cenu prevzala obchodná manažérka hotela Monika Dobiášová.
Czech Hotel Awards je súťaž o titul najobľúbenejšieho hotela v Českej republike, je prehliadkou českých hotelov ponúkajúcich najkvalitnejšie služby a kladie si za cieľ zmapovať a zviditeľniť najlepšie hotely po celej Českej republike. Ocenenia pre Hotel roka 2017 sa udeľujú na každý kraj a pražský obvod. Nominované hotely sú registrované na oficiálnych webových stránkach súťaže www.hotelawards.cz, kde pre svoj najobľúbenejší hotel v kategóriách 3, 4, 5 hviezd a Wellness & spa hlasuje verejnosť.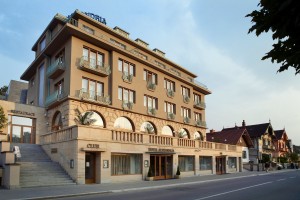 Riaditeľka Alexandrie Miloslava Fialová k oceneniu povedala: "Vyhlásenie výsledkov súťaže je jednou najdôležitejších hotelových udalostí roka. Veľmi si vážime priazeň verejnosti, ktorá svojím hlasovaním už po piatykrát potvrdila naše výsadné postavenie medzi wellness hotelmi v celom Zlínskom kraji. Ocenenia sú výsledkom našej cesty za dôslednou kvalitou a inováciami. Hlavnú časť klientely hotela Alexandria tvoria hostia z ČR, ktorí sa k nám opakovane radi vracajú. Máme však aj stabilizovanú zahraničnú klientelu, Alexandria je veľmi obľúbená medzi Slovákmi, predovšetkým na predĺžené víkendové pobyty. Obľúbili si ju aj Rakúšania a Izraelčanmi. Dúfame, že vedúcu pozíciu obhájime aj v nasledujúcich rokoch a že nám hostia pri hlasovaniach zostanú verní."
Hotel Alexandria dosahuje medziročne významné nárasty výkonov, tržieb, obsadenosti izieb a spokojnosti jeho hostí. Svojou pobytovou ponukou ubytovacích, gastronomických a voľnočasových relaxačných služieb, ich kvalitou a úrovňou, sa radí medzi najlepšie a najvyhľadávanejšie hotely svojej kategórie nielen v Zlínskom kraji. Tohtoročný produkt "Víkend pre single cestovateľov v hoteli Alexandria" bol ocenený Centrálou cestovného ruchu Východnej Moravy ako HIT sezóny pre rok 2017. Ten istý produkt bol tento rok ocenený aj druhým miestom v celoštátnej súťaži Veľká cena cestovného ruchu 2016/2017. Hotel Alexandria je členskou organizáciou AHR ČR od roku 1998. V minulosti patril medzi renomované hotelové zariadenia v ČSR. V roku 2010 prešiel rozsiahlou modernizačnou rekonštrukciou a prístavbou do kategórie 4*.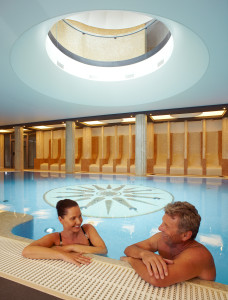 Lákadlom Alexandrie je najväčšie a najluxusnejšie wellness v Luhačoviciach, ale aj vyhlásená Francúzska reštaurácia alebo prvorepubliková atmosféra hlavnej budovy s historickým nočným klubom. Veľmi obľúbené sú pravidelné mesačné gastronomické akcie. O pohodlie návštevníkov sa stará 60 zamestnancov hotela. Ročne využije služby hotela Alexandria viac ako 7 000 osôb.
Luxusný ALEXANDRIA**** Spa & Wellness hotel bol otvorený v roku 1939. Staviteľom a pôvodným majiteľom bol Ing. Alexander Lozovský, jedna z najvýznamnejších osobností českého a slovenského stavebníctva 30. a 40. rokov minulého storočia. Svoj luhačovický hotel poňal v duchu svetových kozmopolitných letovísk ako rozľahlú romantickú stavbu s antickými prvkami.
Hotel je tvorený dvoma vzájomne prepojenými objektmi. Hlavná budova hotela nezapiera zrod za prvej republiky. Hostia v nej nájdu pôvodnú obľúbenú francúzsku reštauráciu s gurmánskymi špecialitami, ako aj nočný klub, ktoré neodmysliteľne patria k histórii tohto slávneho hotela. Moderná časť je reprezentantom súčasnej generácie najmodernejších kúpeľných zariadení európskeho wellnessu. Skladá sa zo štvorposchodovej nadzemnej časti a dvoch suterénnych podlaží, v ktorých sa nachádza wellness centrum navodzujúce štýl starorímskych kúpeľov. Architektúra nadzemnej časti v tvare zrezaného ihlanu na obdĺžnikovom pôdoryse je tvarovo inšpirovaná starovekými palácmi. Izby sú zariadené moderne, ale aj s prvorepublikovým šarmom. Kým izby v historickej časti sú ladené v štýle tridsiatych rokov minulého storočia, moderné časti zdobia repliky suvenírov z ťažení Alexandra Veľkého. Wellness centrum Spa Alexandria ponúka širokú škálu zážitkových a originálnych procedúr na regeneráciu tela i duše a pre starostlivosť o zdravie prírodné uhličité kúpele v tunajšej jedinečnej liečivej vode. Je v ňom bazén, whirlpool, Kneippov chodník, štyri parné kúpele s rôznymi teplotami (parná, bylinková, soľná a laconium), fínska sauna, relaxačné vyhrievané lavice a odpočinkové zóny.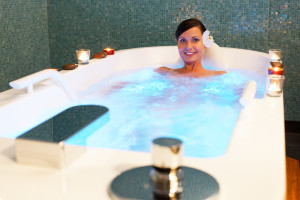 Magnetom je voľný vstup do wellness centra, ktorý zahŕňa rad relaxačných procedúr. Samozrejmosťou je požičanie županu alebo WIFI na izbe zdarma. Hotel je mimoriadne obľúbený pre konanie firemných akcií, seminárov, kongresov a konferencií.
Viac informácií je na: www.HotelAlexandria.cz
01/03/17
Produkt "Víkend pre single cestovateľov v hoteli Alexandria" akciovej spoločnosti Kúpele (Lázně) Luhačovice bol ocenený Centrálou cestovného ruchu Východnej Moravy ako HIT sezóny na rok 2017. Súťaž bola vyhlásená už po ôsmykrát. Ocenenie prevzala Ing. Miloslava Fialová, riaditeľka ALEXANDRIA**** Spa & Wellness hotela na slávnostnom vyhlásení výsledkov súťaže o najlepší produkt turistickej oblasti Východná Morava. Vyhlásenie sa konalo 28. februára 2017 v Zlíne na záver Výročnej konferencie cestovného ruchu turistického regiónu Východná Morava. Víkend pre single cestovateľov v hoteli Alexandria bol tento rok už ocenený aj druhým miestom v celoštátnej súťaži Veľká cena cestovného ruchu 2016/2017.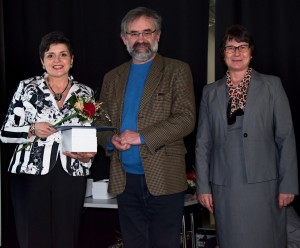 Fialová k získaniu ocenenia povedala: "Víkend pre single cestovateľov v hoteli Alexandria je našou produktovou novinkou. Snahou je odlíšiť sa od ostatných wellness pobytov na trhu a ukázať, že relaxácia bez partnera alebo priateľov nemusí byť nuda. Počas vybraných víkendov v rámci tohto netradičného pobytu pripravený organizovaný program s profesionálnym koučom s cieľom priblížiť kúpele singles a sólo hosťom, ktorí môžu počas spoločných aktivít, prechádzok či večere spoznať nových ľudí a priateľov."
Pobyt Víkend pre single cestovateľov v hoteli Alexandria sa radí k výnimočným produktom na trhu vzhľadom k cieľovej skupine, na ktorú sa zameriava. Umožňuje účastníkom otvoriť si nové obzory a lepšie spoznať seba samého. Účasť na spoločných aktivitách je úplne dobrovoľná. Hostia sa stretávajú ráno pri raňajkách a večer pri večeri a zapájajú sa do spoločenských aktivít podľa nálady. Obsah bol pripravený tak, aby maximálne využil všetky prednosti luxusného ALEXANDRIA**** Spa & Wellness hotela. Okrem voľného vstupu do najväčšieho a najluxusnejšieho wellness centra v Luhačoviciach v štýle starorímskych kúpeľov pobyt zahŕňa aj rad relaxačných procedúr.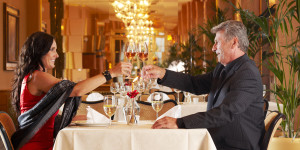 "Cieľom produktu je oslovenie novej cieľovej skupiny a snaha sa odlíšiť od ostatných ponúkaných wellness pobytov a ponúknuť väčšiu pridanú hodnotu. Uvedenie produktu na trh si tiež kladie za cieľ komunikovať skutočnosť, že cestovať samostatne bez partnera či priateľov je úplne prirodzené, čo všeobecne povzbudzuje dopyt u singles aj po iných kúpeľných pobytoch. Každý hosť akciovej spoločnosti Kúpele Luhačovice navyše dostane po príchode exkluzívnu zľavovú kartu, pri ktorej predložení ušetrí napr. pri objednaní výletov a kultúrnych akcií a môže ju využiť aj vo vybraných reštauráciách, obchodoch či cukrárňach v Luhačoviciach a okolí," konštatovala M. Fialová.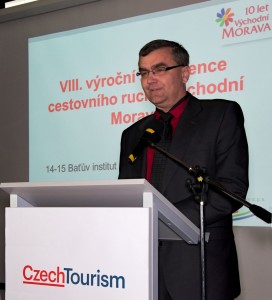 ALEXANDRIA**** Spa & Wellness hotel je v akciovej spoločnosti Kúpele Luhačovice vlajkovou loďou v oblasti wellness pobytov. Magnetom je voľný vstup do najväčšieho a najluxusnejšieho wellness centra v Luhačoviciach v štýle starorímskych kúpeľov. Wellness centrum ponúka zážitkové procedúry na regeneráciu tela i duše, vrátane prírodných uhličitých kúpeľov. Hostia majú k dispozícii voľný vstup do bazéna, vírivky a saunového sveta (laconium, parná, bylinková, soľná a fínska sauna), k dispozícii je tiež Kneippov chodník, ochladzovacie sprchy, ľadová studňa a vyhrievané lavice. Pre aktívnych návštevníkov je pripravené fitness centrum vybavené najmodernejšími posilňovacími strojmi. Očarí tiež Francúzska reštaurácia ponúkajúca regionálnu i medzinárodnú kuchyňu. Nechýba ani pravidelný kultúrny program vo vyhlásenom nočnom klube s prvorepublikovou atmosférou. Izby v historickej časti sú ladené v štýle tridsiatych rokov minulého storočia a modernú, novú časť zase zdobia repliky suvenírov z ťažení Alexandra Veľkého. Hotel už štyrikrát získal prestížne ocenenie v súťaži Czech Hotel Awards – Hotel roka v kategórii Wellness & spa v Zlínskom kraji.
Viac informácií: www.HotelAlexandria.cz, www.LazneLuhacovice.cz