20/09/16

Zväz chemického a farmaceutického priemyslu (ZCHFP) SR spolu so spolupracujúcimi organizáciami a odbornými garantmi, pod záštitou Ministerstva hospodárstva SR, organizuje už 11. ročník Konferencie CHÉMIA 2016. Konferencia sa koná v utorok 20. 9. 2016 a v stredu 21. 9. 2016 v Liptovskom Jáne v Hoteli Sorea Máj. Prvý deň konferencie (20. 9.) je na programe Responsible Care so zameraním na RC, emisie do ovzdušia, BAT (najlepšia dostupná technika) a BREFs (výsledky výmeny informácií o aktuálnom vývoji BAT), bezpečnosť na pracovisku, nový zákon o odpadoch, EIA, SEVESO. Druhý deň (21. 9.) je venovaný Bezpečnému manažmentu chemických látok so zameraním na biocídy, nariadeniam REACH a CLP (klasifikácia, označovanie a balenie), toxikologickému testovaniu, karcinogénom v pracovnom prostredí, endokrinným rozrušovačom a NTIC (Národné toxikologické informačné centrum). Informuje o tom Ing. Roman Karlubík, MBA, prezident ZCHFP SR.
"Konferencia vytvára priestor na stretnutie zástupcov výrobcov, dovozcov, distribútorov a používateľov chemických látok, testovacích laboratórií a priemyselných zväzov. V súvislosti s prebiehajúcimi zmenami v chemickej legislatíve v EÚ poskytne priestor na výmenu skúseností s implementáciou chemickej legislatívy do praxe. Responsible Care je iniciatíva chemického priemyslu, ktorej cieľom je neustále zvyšovať starostlivosť o životné prostredie, zdravie a bezpečnosť pri výrobe a používaní chemických výrobkov. Nariadenia REACH sú novou chemickou legislatívou EU, ktorej implementácia si vyžiadala značné dodatočné náklady pre priemysel," konštatuje R. Karlubík.
Štatistický úrad SR v roku 2015 evidoval v chemickom a farmaceutickom priemysle celkom 275 výrobných podnikov s počtom 20 a viac zamestnancov. Priemerná veľkosť podnikov slovenského chemického a farmaceutického priemyslu podľa počtu zamestnancov je cca 150. V roku 2015 zamestnávali chemické podniky v SR spolu 40 679 osôb. Tržby v bežných cenách dosiahli 9,326 miliardy EUR. V rámci celej priemyselnej výroby SR mal chemický a farmaceutický priemysel v roku 2015 na celkových tržbách v bežných cenách podiel 12,1%. Výrobný program tvorí široké spektrum produktov, od organických a anorganických chemikálií, cez priemyselné hnojivá (amoniak), pneumatiky, výrobky z gumy, farby, laky, liečivá, až po sofistikované špeciálne výrobky a chemické vlákna. Odvetvie zabezpečuje aj medziprodukty pre ďalšie spracovanie.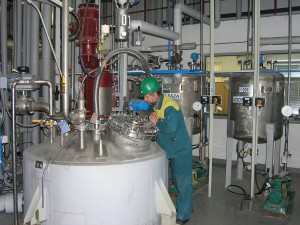 07/11/12
V Bratislave sa bude 8. novembra 2012 konať prvá slovenská franchisingová konferencia, ktorej cieľom je šíriť povedomie o franchisingu ako overenej forme podnikania a podporovať jeho rozvoj na Slovensku. Organizátorom akcie je Národná agentúra pre rozvoj malého a stredného podnikania v spolupráci so Slovenskou franchisingovou asociáciou. Informoval o tom výkonný riaditeľ a hlavný dietológ franšízingového reťazca NATURHOUSE na Slovensku Tibor Antony.
,,Teší nás, že franchisingový spôsob podnikania sa na Slovensku, hlavne za posledné dva roky, stal výrazne úspešným, efektívnym a preferovaným systémom u živnostníkov, aj právnických osôb. Čoraz viac firiem, pracujúcich v oblasti najmä životného štýlu a wellness, poskytujúcich produkty a služby zdravej výživy, uplatňuje u nás formu predaja franchisingových licencií franchisantom. Tí si väčšinou riadia svoje maloobchodné prevádzky vo vlastnom mene, na vlastnú zodpovednosť, pod svojím majetkom, s cieľom dosahovania zisku, avšak majú obrovskú výhodu oproti bežným podnikateľom. Aj medzinárodná značka dietetických center NATURHOUSE má v tejto oblasti bohaté skúsenosti pri rozširovaní našej franchisingovej siete. Spoločnosť, ktorá predáva licencie, teda Master franchisant, neustále stojí pri franchisantoch marketingovo, technicky, či v rámci personálneho poradenstva a podpory", povedal T. Antony.
Dodal, že v období hospodárskej a finančnej krízy, ktorá neustále pretrváva na Slovensku, je nevyhnutné u záujemcov o franchising dobre zvážiť nielen finančné možnosti na nákup licencie, hmotný a nehmotný majetok, ale aj svoje manažérske schopnosti a zručnosti, odhodlanie a nadšenie z podnikateľských aktivít. To je v dnešnej dobe často dôležitejšie pre úspešné podnikanie a konkurencieschopnosť značky, než samotné financie.
Člen predstavenstva Slovenskej franchisingovej asociácie (SFA) Jozef Šétaffy k tomu uviedol: "Slovenská frachisingová asociácia združuje franchisingové koncepty, ktoré sú jej členmi. Od začiatku tohto roka sme zaznamenali výrazný nárast firiem v oblasti franchisingu a tým aj zvýšený záujem o ich členstvo u nás. Preto sme sa rozhodli uskutočniť spoločné podujatie v rámci prvej franchisingovej konferencie. Pripravili sme bohatý program. Okrem teoretických poznatkov a skúseností, ako vysvetlenie pojmu franchising, jeho história a aktuálny stav na Slovensku, či najnovšie trendy a základná legislatíva v tejto oblasti, majú účastníci aj možnosť prezentácie vlastných konceptov. Tým sa na verejnosti ešte viac zviditeľnia, oslovia svoje cieľové skupiny a tiež ponúknu možnosť spolupráce. To všetko majú k dispozícii bezplatne, ale vzhľadom na limitovanú kapacitu podujatia, účasť je možná len na pozvánky. Dúfame, že aj toto podujatie prispeje k šíreniu dobrého mena a budovaniu imidžu potenciálnych podnikateľov formou franchisingu".
Zoznam predajní NATURHOUSE v SR:
• Bratislava, Vysoká 38
• Bratislava, OC Centrála
• Košice, Mlynská 29
• Košice, Pri prachárni 4
• Levice
• Nitra
• Nové Zámky
• Trenčín
• Trnava
• Prešov
Kontakt pre záujemcov o franchising:
Natur Slovakia, spol. s r. o.
Hrabina 338
951 71 Sľažany
Ing. Tibor Antony
výkonný riaditeľ franšízingového reťazca NATURHOUSE pre SR
www.naturslovakia.sk
Tel. +421 905 905 873
E-mail: tibor.antony@naturhouse.sk