07/03/17
Len čo sme sa zbavili chrípok, angín a im podobných ochorení, či dusivého zimného smogu, už na značnú časť populácie útočia pele a plesne. Jar je tu a s ňou aj alergické reakcie, hlavne na kvitnúce dreviny a kvetiny. V zálohe číhajú aj skrížené alergie, napríklad na pele a potraviny, uškodiť môže aj ostré jarné slnko. Podľa štatistík cca 40 % detí a 30 % dospelých sú alergici. Kvalitu života alergikom značne zhoršuje kýchanie, vodnatá nádcha, upchaný nos, svrbenie a slzenie očí. Pri prudkých reakciách môže dôjsť aj k opuchom. Na uvoľnenie dýchania pri alergickej nádche skúste Vincentku, prinesie vám úľavu.
Alergickú sezónu začína zvyčajne vo februári lieska (jej sezóna trvá cca 50 dní) a po nej nasleduje jelša. Najhoršie pre peľových alergikov bývajú mesiace apríl – máj, závisí to od rýchlosti nástupu jari a teplých dní. Hlavným jarným alergénom je breza, potrápiť však môžu aj baza, agát, lipa a ihličnaté dreviny.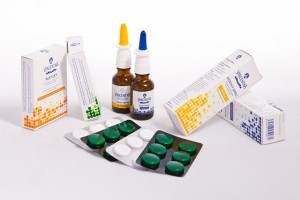 Jan Šumšal, riaditeľ spoločnosti Vincentka, a. s., ktorá vlastní práva na jej plnenie do fliaš, hovorí: "Jar býva najťažším obdobím pre alergikov, lebo vtedy je vzduch je plný peľov a iných častíc štartujúcich odozvu imunitného systému. Pri nádchach a zápalových procesoch prináša úľavu osvedčený liek starých materí – prírodná minerálna voda vyvierajúca v Kúpeľoch Luhačovice. Vincentka ako 100% prírodný produkt pomáha pacientom počas celého roka eliminovať nepríjemné sprievodné prejavy alergií a pomáha k obnove prirodzeného prostredia nosových slizníc. Predovšetkým pomáha zlepšovať dýchanie, pretože oxid uhličitý a soli obsiahnuté v tejto minerálke majú schopnosť rozpúšťania hlienov. Pri peľových alergiách pomáha udržiavať fyziologickú čistiacu schopnosť nosovej sliznice, umožňuje optimálne fungovanie tzv. slizničnej imunity. Najľahšie sa aplikuje prostredníctvom nosového spreja. Používanie Vincentky nie je obmedzené časovo ani frekvenciou použití za deň."
Dodáva, že Vincentka zvlhčuje sliznicu celej nosovej dutiny a nosohltanu predovšetkým pri pobyte v prostredí s nízkou relatívnou vlhkosťou vzduchu, v priestoroch vykurovaných ústredným kúrením a prostredí znečistenom prachovými časticami. Odporúča si ňou vyčistiť dutiny po príchode domov z jarnej prechádzky, kde sa do dýchacích ciest dostávajú alergény peľov, plesní a prachu. "Vincentku odporúčajú alergológovia na zvládanie ťažkostí pri peľových a prachových alergiách. Predovšetkým pomáha zlepšovať dýchanie, dôležitú funkciu plní pri uvoľňovaní hlienov blokujúcich dýchacie cesty, dutiny a hromadiacich sa v hrtane, nose a priedušnici. Vincentka je vo všeobecnosti preto taká účinná, že obsahuje správne zloženie minerálnych látok a oxidu uhličitého. Tie vytvárajú nepriaznivé prostredie pre baktérie, rozpúšťajú hlieny, pomáhajú zvládať prejavy chorôb a pôsobia aj preventívne. Prispieva aj to, že osmolarita Vincentky je podobná osmolarite ľudskej krvi," vysvetľuje J. Šumšal.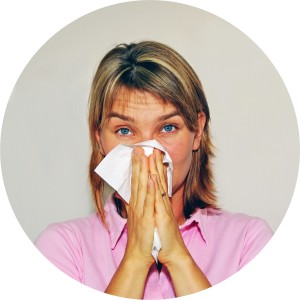 Vincentka má, okrem prinášania úľavy pri alergickej či klasickej nádche aj ďalšie použitie. Celkovým zložením hypotonickej kyselky s obsahom jodidov priaznivo ovplyvňuje obranyschopnosť v zmysle prevencie chronických bakteriálnych infekcií horných dýchacích ciest, chronickej rinitídy, sinusitídy a chronickej polypóznej nasopharyngitídy. U detí preventívne pôsobí proti rozvoju recidivujúcej tracheobronchitídy a rhinitídy. Aplikácia prípravku je vhodná aj po stavoch nosových operácií, ideálne pomocou nosového spreja, ktorý je možné doplniť Vincentkou z originálneho balenia 0,7 l. Odporúča sa tiež proti vzniku suchých zápalov nosovej sliznice a na prevenciu jej recidív.
,,Pre špeciálne potreby menších detí sme vyvinuli aj nosový sprej Junior s menším tlakom a menšou veľkosťou aplikátora. Vincentku je možné použiť už u dojčiat, ale je potrebná veľká opatrnosť pri aplikácii z dôvodu možného poranenia dieťaťa. Najlepšie je ho použiť v tesnej blízkosti nosa tak, aby sa nezasúval do nosovej dierky. Mamičky sa nemusia báť ho aplikovať už malým dojčatám a je veľmi vhodným prírodným prostriedkom aj pre tehotné ženy," odporúča J. Šumšal.
Vincentka sa pri každom z ochorení dýchacích ciest aplikuje určitým preferovaným spôsobom. Vincentku NASALIS a plastovú konvičku je najlepšie použiť pri problémoch s dutinami. Aplikácia Vincentky v spreji je zas vhodná do nosa, prípadne do hrdla, kloktanie Vincentky priamo z pohára alebo z fľaše je dobré na hrtan a hornú časť priedušnice. Aplikácia vdychovaním špeciálnymi inhalátormi je ideálna na dolné cesty dýchacie, kam sa nedá dopraviť predchádzajúcimi spôsobmi. Varenie Vincentky v odkrytom hrnci v kuchyni, či jej vdychovanie z vyvíjača pary, je tiež vhodnou formou inhalácie. Naparovanie pod uterákom nad Vincentkou dobre pôsobí na horné i dolné dýchacie cesty či dutiny, pretože aj zahriatie samotnou parou má pozitívne účinky a to rozširovanie ciev, ich prekrvenie a tiež pomáha zbaviť sa studených hlienov.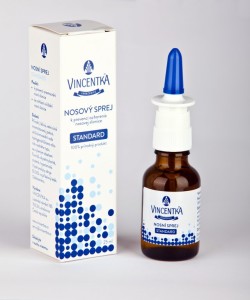 Využitie Vincentky je široké. Veľmi vhodná je na choroby žalúdka, ale aj na úpravu žalúdočnej kyseliny po nadmernom požívaní mastných jedál a alkoholických nápojov. Vo Vincentke sa okrem liečby akútnych ochorení môžeme aj kúpať, pričom na tieto účely je Vincentka využívaná najmä v Kúpeľoch Luhačovice, a. s. Minerálne kúpele pomáhajú organizmu pri pohybových ochoreniach, ale aj pri atopických ekzémoch, kožných problémoch. Firma Vincentka vyvinula celú škálu ďalších výrobkov, vyrobených na báze Vincentky. Získava sa z nej silný koncentrát a ten sa zapracúva do krémov, pastiliek, či zubných pást. Pri ochoreniach hrdla, angínach, ale aj strate hlasu sú veľmi dobré práve pastilky, ktoré často používajú speváci, moderátori, spíkri a učitelia.
Viac informácií je na www.vincentka.cz .
29/03/13
S prichádzajúcou jarou na nás útočí aj takzvaná jarná únava. Pocit nedostatočnej výkonnosti často pramení z nášho spôsobu života počas zimy. Obvykle totiž konzumujeme ťažké, mäsité jedlá a zabúdame dopĺňať ovocie a zeleninu. Navyše kvôli studenému a nevľúdnemu počasiu mnoho z nás obmedzuje pohyb. V tomto článku vám poradíme, ako po takej zime prekabátiť pocit jarnej únavy a dostať sa zase do formy.
1. Zaistite si dostatočný príjem koenzýmu Q10
Koenzým Q10 je látka, ktorú je naše telo schopné si do značnej miery vytvoriť samo. Jej nedostatok však môže viesť nielen k chorobám srdcového aparátu, ale aj k poklesu výkonnosti a odolnosti organizmu a orgánov. Preto je vhodné koenzým do tela priebežne dopĺňať. "Vo veku okolo 20 rokov sme s tvorbou koenzýmu Q10 sebestační. Už v 40 rokoch však srdce vie vytvoriť iba 68 % pôvodného obsahu koenzýmu a v 80 rokoch klesne produkcia pod polovicu. Tvorba je ešte viac obmedzovaná, ak trpíme zdravotnými problémami alebo užívame lieky na zníženie cholesterolu," upozorňuje Klara Minczinger, produktová manažérka spoločnosti Generica, ktorá na doplnenie koenzýmu Q10 ponúka prípravok CoOmega, v ktorom je lepšie vstrebávanie koenzýmu Q10 podporené 3-omega mastnými kyselinami.
2. Načerpajte vitamín D
Vitamín D sa tvorí v našej pokožke pôsobením slnečného žiarenia. Táto tvorba je možná najmä v jarných a letných mesiacoch, cez zimu naopak telo čerpá vitamín D z nahromadených zásob. Preto by sme mali na začiatku jari, kedy sú dni ešte krátke a slnečného svitu nie je veľa, svojmu telu vitamín D doplniť. Prispieva totiž k normálnej funkcii imunitného systému a slúži na udržanie normálnej činnosti svalov a stavu kostí. Ako jeden z mála vitamínov ho nenájdeme v listovej zelenine, naopak vhodným zdrojom na jeho doplnenie je rybí tuk. Nesmieme ale zabudnúť, že tento vitamín je rozpustný v tukoch, preto nám môže hroziť predávkovanie. Tomu sa vyhneme, ak zvolíme rybí tuk vo forme výživových doplnkov.
3. Zbavte sa škodlivých látok v tele
Po zime je naše telo zaplavené množstvom škodlivých látok. Práve kvôli nim sa môžeme na jar cítiť veľmi unavení, v strese a môžeme byť aj náchylnejší k chorobám. V rámci očistenie tela od týchto škodlivín je veľmi dobré posilniť pečeň a jej činnosť. Práve pečeň totiž stojí za úspešnou detoxikáciou nášho organizmu. K jej posilneniu sú vhodné napríklad výťažky z pestreca mariánskeho. Na našom trhu ich nájdeme pod názvom silymarín a okrem ochrany pečene a jej detoxikácie pomáha podporovať aj čistenie celého tela.
4. Nezabudnite na pohyb a tekutiny
Na jar by sme nemali zabúdať na pohyb. Počas neho sa totiž vylučuje hormón serotonín, ktorý zbavuje naše telo stresu, úzkosti a zlej nálady. Vhodná je akákoľvek pohybová aktivita – od behania, cez prechádzky na bicykli alebo tanec až po pokojné prechádzky v prírode. Vďaka nim si môžeme dopriať chvíľku sami pre seba, ktorá nám prospeje v každodennom boji proti stresu. V súvislosti s pohybom je nutné nezabúdať na dostatočný príjem tekutín, denne by sme mali vypiť aspoň dva litre vody, čaju, minerálky alebo džúsu.
5. Pomôžte si vitamínmi C a B
Proti jarnej únave je možné bojovať celým radom prostriedkov. Medzi ne patrí napríklad vitamín C, ktorý je možné nájsť v šípkach, keli, brokolici a kapuste. Podobne by sme mali do jedálnička zaradiť zdroje vitamínov skupiny B, teda napríklad vnútornosti, pšeničné klíčky, pivovarské kvasnice alebo strukoviny. "Vitamín C a vitamíny skupiny B prispievajú k normálnemu energetickému metabolizmu a k zníženiu miery únavy a vyčerpania," vysvetľuje Eva Stanislavská, marketingová manažérka spoločnosti Generica, ktorá ponúka vitamín C aj B-komplex v kvapkách. "Okrem toho tieto vitamíny pomáhajú k normálnej psychickej činnosti a normálnej činnosti nervovej sústavy. Vitamín C navyše prispieva k normálnej funkcii imunitného systému, " dodáva Stanislavská.
CoOmega Generica, cps. 60
CoOmega Generica obsahuje 60 mg koenzýmu Q10 a vysoko koncentrovaný rybí tuk (EPA/DHA). Táto kombinácia prispieva k udržaniu celkovej dobrej kondície, k zvýšeniu vitality a kladne pôsobí na životnú energiu. Použitý koenzým je získaný fermentačnou cestou, čo je prirodzený ľudský proces. Takto získaný koenzým je identický s koenzýmom prítomným v organizme. 3-omega mastné kyseliny (EPA a DHA) prispievajú k správnej funkcii srdca a pomáhajú udržať normálnu, zdravú hladinu triglyceridov v krvi.
Silymarin 140 Generica, cps. 60
Jediný produkt na trhu obsahujúci štandardizovaný extrakt z pestreca mariánskeho – silymarín a esenciálne fosfolipidy. Silymarín podporuje zdravie pečene, prispieva k jej ochrane a detoxikácii. Pomáha udržiavať funkciu pečene a podporovať trávenie a čistenie tela. Ďalej prispieva k ochrane buniek a tkanív pred oxidačným poškodením.
Vitamin C Generica kvapky, 30 ml
Vitamín C vo forme kvapiek, určený pre deti od 3 rokov. Kvapky majú višňovú chuť. Sú vhodné pre diabetikov, ich sladkosť zaisťuje xylitol. Užívanie produktov obsahujúcich xylitol namiesto cukru prispieva k udržaniu mineralizácie zubov.
B-komplex Generica kvapky, 30 ml
Prvý a jediný B-komplex vo forme kvapiek, určený pre deti od 3 rokov. Kvapky obsahujú všetkých 8 esenciálnych vitamínov skupiny B vrátane kyseliny listovej a vitamínu B12. Kvapky majú ovocnú príchuť. Sú vhodné i pre diabetikov, ich sladkosť zaisťuje xylitol. Užívanie produktov obsahujúcich xylitol namiesto cukru prispieva k udržaniu mineralizácie zubov. B-komplex kvapky je možné užívať aj dlhodobo bez rizika predávkovania.
O spoločnosti Generica
Spoločnosť Generica, s.r.o je najväčším slovenským výrobcom výživových doplnkov so sídlom v Piešťanoch. Portfólio spoločnosti ponúka viac ako 50 produktov určených na prevenciu a podporu liečby rôznych ochorení. Na slovenskom trhu pôsobí Generica už 16 rokov. Snahou spoločnosti je  naďalej prinášať na trh kvalitné inovatívne výrobky, ktoré sú cenové dostupné pre širokú verejnosť.
Výrobky spoločnosti Generica sú vysoko kvalitné, čoho dôkazom je výroba výživových doplnkov pre svetové farmaceutické spoločnosti a certifikát ISO 9011 a 14001, ktorého je Generica držiteľom už od roku 2004.
Kontakty
PharmDr. Klára Minczinger
produktová manažérka
e-mail: k.minczinger@generica-bohemia.cz
tel.: +420 724 378 098
Veveří 102, 616 00 Brno
www.generica-bohemia.cz