16/02/17
O ručnú remeselno-umeleckú prácu je medzi majiteľmi domov a bytov čoraz väčší záujem. Zákazníci už nechcú vidieť rovnaké brány a ploty ako majú susedia, navyše často z obchodného reťazca. Túžia po originalite exteriérov a interiérov. Túžba odlíšiť sa stojí aj za súčasným boomom záujmu o ručne kované výrobky firmy Interierkov, s.r.o., Handlová. Zima je ideálnym obdobím na ich objednanie, pretože na jar sú hotové a pripravené na inštaláciu v exteriéri.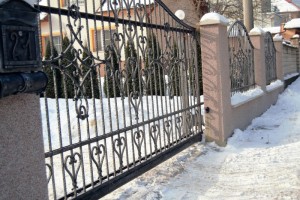 Umelecký kováč a riaditeľ firmy Interierkov Ján Kaniansky konštatuje: "Po rokoch stagnácie sa trh rozbehol a v sezóne nestíhame vyhovieť všetkým objednávkam. Len čo nastanú slnečné dni, ľudia začínajú vylepšovať svoje domy a záhrady. Zima je preto ideálnym obdobím na ujasnenie si svojich zámerov a objednanie nových brán, bráničiek, plotov, balkónov a záhradných doplnkov. Niet na čo čakať, pretože chvíľu trvá zhotovenie umeleckého návrhu a ešte dlhšie jeho realizácia. Kým sa budú výrobky osadzovať, už tu bude jar. V lete sú potom dodacie lehoty aj niekoľko mesiacov. Ručná kováčska práca je výnimočná nielen vo výsledku, ale aj v procese samotnej realizácie. Technologické postupy si vyžadujú čas, námahu a skúsenosti, nemôže ich robiť ktokoľvek, lebo každá chyba sa vypomstí na výsledku. Kováčsky proces zahŕňa prípravu materiálu, nahrievanie železa vo vyhni, kutie, zváranie jednotlivých častí, ručné tvarovanie detailov. Nakoniec výrobok natrieme niekoľkými vrstvami farby a vyzdobíme patinou. Patinovaním vyniknú všetky kováčske detaily na miestach kde sa búchalo kladivom a  tepalo."
Ďalej zdôrazňuje, že filozofiou umeleckého kováčstva je vyhovieť predstavám zákazníkov. Často si vyberú zo vzoriek firmy na internete, alebo sa inšpirujú inými vzormi. Finálna podoba výrobkov sa prispôsobuje vkusu a rozpočtu zákazníkov.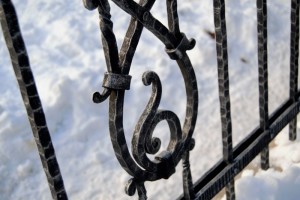 ,,Za svoje peniaze u nás zákazník dostane pridanú hodnotu výnimočnosti a sám sa podieľa na konečnej podobe diela. Keďže ide o originálnu, náročnú ručnú prácu, nejde o najlacnejšie výrobky, exkluzivita a kvalita niečo stoja. Pre exteriéry vyrábame poštové schránky, kované ploty, brány, zábradlia, pergoly, altánky a doplnky pre záhradu. Pre interiéry kovové postele, lampy, zrkadlá, svietniky, schodiská a rôzny nábytok a doplnky. Vývozným hitom do Kanady a USA sa stali spálňové sety zložené z manželskej postele, nočných stolíkov, stropného lustra, zrkadla, stojanovej lampy a garniže. Tieto výrobky zo železa, alebo kombinácie rôznych kovov sú zladené a tvoria kompaktný celok pre spálňu  zariadenú v jednotnom štýle," vysvetlil J. Kaniansky.
Firma Interierkov nevyrába na sklad, ale len na základe objednávok a požiadaviek od zákazníkov. Zákazníckym hitom firmy sú ručne kované poštové schránky zo železa v tvare tašiek. Najväčší záujem je o patinovanú úpravu vo farbe rifľoviny, či jemného pozlátenia na čiernom podklade. Každá zo schránok je originálnym umeleckým dielkom. Na poštovú schránku si každý môže dať vykovať napríklad číslo domu, bytu alebo iniciály. Obľúbené a úspešné sú aj ručne kované originálne ruže zo železa, vhodné hlavne pre  ženy k narodeninám, meninám, na Valentína, Deň žien, či pri akejkoľvek inej príležitosti. Na výber sú stovky rôznych ruží, každá z nich je originálom. Vynikajúca je aj cena takejto ručnej práce – jedna ruža vyjde len 15 eur a zákazníci si ju môžu nechať doručiť na dobierku objednávkou z internetu z adresy www.interierkov.sk.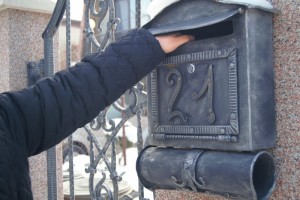 Materiál a cena – zásadné rozdiely medzi ručnou prácou a výrobkami obchodných reťazcov
Ak porovnávame výrobky zakúpené v obchodných reťazcoch za bezkonkurenčne nízke ceny a poctivú, ručne kovanú prácu, vidíme zásadné rozdiely. V prvom rade sú to použité materiály. Na lacné napodobeniny kovaných plotov sa používajú joklovinové profily, ktorých hrúbka "plechu" je 1 mm. Klasická kovaná brána je z plného materiálu, ktorý sa časom neohýba ani inak nemení tvar. Pri lacných výrobkoch je tak životnosť výrobku neporovnateľne nižšia. Nehovoriac o tom, že pri kúpe je na každom dielci  nalepený štítok s textom : "Po zakúpení ihneď ošetriť základným náterom". Ak zákazník nechce, aby plot z obchodného reťazca zhrdzavel, musí náter opakovať pravidelne každý rok. Ste ochotný za takýto výrobok dať vaše ťažko zarobené peniaze?
"Ďalší rozdiel je vo výrobe. Kované výrobky z obchodov sa vyrábajú ako pásová výroba, ktorú robia stroje. A väčšinou sú to z dovozu za pár eur. Pri ručnom kovanom výrobku z našej firmy Interierkov ide v prvom rade o ručnú prácu, polotovary nepoužívame a každý výrobok je originál. Nenájdete dva rovnaké kusy, každý sa odlišuje aspoň v najmenších detailoch. Naše ceny sú reálnym ohodnotením použitého materiálu a ručnej práce a sú zárukou toho, že budete mať doma jedinečný výrobok," uzatvára J. Kaniansky.
Ďalšie informácie sú na: www.interierkov.sk,   https://www.facebook.com/interierkov/?hc_location=ufi, tel. 0903 956 348
10/03/15
Na jubilejnom 50. ročníku popredného svetového veľtrhu pre rolety, dvere / brány a protislnečné systémy R+T (Leading world trade fair for roller shutters, doors/gates and sun protection systems) v nemeckom Stuttgarte, v dňoch 24. až 28. februára 2015, zabodoval aj najväčší slovenský výrobca týchto výrobkov, firma K-system, s.r.o, Žiar nad Hronom. Veľký ohlas vzbudila u odbornej verejnosti novinka firmy – dverová sieť Nobarier® Rollo, ktorú začína K-system sériovo vyrábať v tomto roku. Žiarsky výrobca očakáva, že  tento výrobok bude mať minimálne taký dobrý ohlas u zákazníkov, ako mal u odbornej verejnosti. Na výstave v Stuttgarte s úspechom predstavil aj ďalšie výrobky zo svojej produkcie – interiérové, vertikálne a exteriérové žalúzie, slnolamy a siete proti hmyzu na okná a dvere. Informovala o tom Andrea Kúdelová, vedúca divízie obchodu a marketingu K-systemu.
,,Nemecky hovoriaci trh je pre nás mimoriadne dôležitý a aj preto sme sa na ňom prezentovali svojou produkciou. V súčasnosti je Nemecko, po ČR a Rakúsku, naším tretím najvýznamnejším exportným teritóriom, s najväčším potenciálom rastu. V nespočetnej konkurencii majú šancu uspieť na nemeckom trhu iba kvalitné výrobky. Opäť sme si overili, že náš dlhodobý dôraz na kvalitu produkcie sa vypláca a naše výrobky plne obstoja v konkurencii ďalších výrobcov, ktorí v Stuttgarte vystavovali. V našom stánku v hale 8, číslo C88 bolo živo od rána až do záverečnej," konštatovala A. Kúdelová.
Dodala, že tento ročník stuttgartskej výstavy bol výnimočný tým, že bol jubilejným 50. ročníkom tejto výstavy. Preto sa vystavovatelia snažili dlhšie si šetriť novinky a predstaviť sa až na tomto veľtrhu. Keďže minulý ročník nezaznamenal nejaké významné objavy či vylepšenia v oblasti tieniacej techniky, očakávania návštevníkov aj vystavovateľov boli veľké. Prejavilo sa to najmä na vysokej návštevnosti.
,,V oblasti interiérovej dekoratívnej tieniacej techniky sme zaznamenali najmä široký sortiment látok a rastúci trend potlače. Či už išlo o potlač na mieru alebo farebnú potlač látok roletožalúzií, ktoré boli doslova na každom kroku. Prekrásne motívy v kombinácii s atraktívnym pretkávaním vyrážali dych. Väčšina renomovaných výrobcov (materiálov aj výrobkov) vsadila na prezentáciu v jednofarebnej línii, pričom pohľad návštevníka zaujali jednotlivé rozdiely a detaily. Skutočne bolo na čo pozerať. V oblasti exteriérového tienenia dominovali exteriérové žalúzie v rôznych prevedeniach, vrátane atypických. Niektoré boli inšpirujúce, iné plné otázok, na ktoré ani samotní výrobcovia nemali pripravené odpovede, nakoľko s výrobou budú ešte len začínať. Dennodenné používanie, vietor, voda a mráz preveria ich funkčnosť dostatočne. Určite nás však zaujala nová hliníková lamela s novým typom povrchovej úpravy, ktorá nezanecháva pri daždi na lamelách šmuhy, ale do istej miery dokáže dážď využiť na ich vyčistenie. Samozrejme prítomné boli aj čistiace linky na čistenie žalúzií. V našich podmienkach si však ich využiteľnosť nedokážeme dosť dobre predstaviť, nakoľko sú neprenosné, použiteľné iba na demontované žalúzie," povedala A. Kúdelová.
Poukázala aj na to, že na každom kroku sprevádzali návštevníkov plisované siete proti hmyzu v rôznych prevedeniach a farbách ,,Množstvo prekrásnych stánkov bolo dostatočnou pastvou pre oči. Ďakujeme za návštevu našim slovenským, českým aj zahraničným partnerom. Sme radi, že sme sa mohli stretnúť na jednom mieste a dokázať, že naša ponuka je porovnateľná s ponukou zahraničných firiem známych značiek," uzavrela A. Kúdelová.
Viac informácií je na : www.ksystem.sk , e-mail:  info@ksystem.eu , tel: 045 / 672 60 50
26/06/14
Potrebujete obnovu bytového domu, zatepľovanie obvodového plášťa, výmena okien, rekonštrukcia balkónov/lodžií, zateplenie a rekonštrukcie? Naša spoločnosť Vám pomôže pri realizácií a obnove domu alebo bytu.
Spoločnosť pôsobí na trhu od roku 2008. Vo svojich začiatkoch sa zaoberala prevažne drobnými stavebnými prácami, predajom a montážou plastových a hliníkových okien a servisom garážových a priemyselných brán. Postupne sa pretransformovala na stabilnú stavebno – obchodnú spoločnosť ktorá dnes realizuje komplexné obnovy bytových domov: zatepľovanie, výmena okien dverí a presklení, prístupové systémy, poštové schránky, rekonštrukcia schodov, maliarske práce, senzorové osvetlenie a stavby na kľúč. Naša spoločnosť realizuje hlavne:
Obnova bytového domu – zateplenie obvodového plášťa, výmena okien, rekonštrukcia balkónov/lodžií, zateplenie a rekonštrukcia plochých a šikmých striech, regulácia vykurovacej sústavy, rekonštrukcia interiéru bytového domu – podlahy, osvetlenie, el. rozvody.
V realizácií skla zabezpečujeme kompletnú dodávku a montáž celosklenených konštrukcií z bezpečnostného skla. Medzi populárne produkty patria: sklenené steny, sklenené sprchové kúty, sklenené zábradlia, sklenené obklady a zásteny, sklenené dvere posuvné a otváracie, sklenené prístrešky, pochôdzne skla, zasklenia výťahových šácht a iné a typové sklenené riešenia. Jednotlivé sklené systémy sú vhodné do interiéru aj exteriéru. Čaro sklenej konštrukcie je v dopadajúcom svetle, ktoré aj napriek priznanej konštrukcie, ktorá predeľuje priestor, nie je prakticky vôbec tlmené. Bezpečnostné sklo umožňuje zrealizovať projekty, ktoré nepotrebujú zbytočné kotviace rámy a vďaka tejto možnosti pôsobia exkluzívnym dojmom. Bezpečnosť a funkčnosť je samozrejmá.
Zaoberáme sa aj dodávkou garážových a priemyselných brán a automatizáciou vstupných brán pre domácnosti a firmy. Pre domácnosti a firmy dokážeme zabezpečiť nielen všetky typy brán, ale aj oplotenie pozemku v rovnakom dizajne.
Informácie ohľadom našej spoločnosti nájdete na email: lmmontsro@gmail.com.
11/10/13
Predstavujeme vám výrobno-obchodnú spoločnosť ICT industrial construction technologies pôsobiacu v oblasti strojárenstva od roku 1998, v ktorej strojárska výroba bola od založenia hlavná a strategická činnosť. V priebehu vývoja sa hlavná aktivita podniku začala orientovať na širší okruh zákazníkov z rôznych oblastí, čo podnietilo vznik samostatných oddelení s konkrétne zameraným výrobným programom a službami.
Spoločnosť v súčasnosti produkuje širokú škálu výrobkov a poskytuje služby európskych a svetových kvalitatívnych štandardov prostredníctvom divízií so zameraním na strojársku výrobu, stavebné konštrukcie a priemyselné čistenie.
Strojárska výroba
Divízia realizuje zákazkovú výrobu v oblasti všeobecného strojárstva. Produkuje širokú škálu výrobkov pre rôzne odvetvia priemyslu od náhradných dielov, podskupín a zostáv po kompletné jednoúčelové stroje a zariadenia a tiež zabezpečuje komplexnú výrobu vyrábaných dielov a sortimentu pre ďalšie divízie spoločnosti.
Stavebné konštrukcie
Divízia realizuje návrhy, dizajn, výrobu a montáž konštrukcií a atypických prvkov pre stavebný priemysel a modernú architektúru. Zábradlia z nehrdzavejúcej ocele a skla, schodiská a pochôdzne sklá, vstupné brány a oplotenia, markízy a zastrešenia, atypické prvky, sklenené dvere, zásteny a deliace priečky zo skla.
Priemyselné čistenie
Spoločnosť realizuje vývoj, výrobu, predaj a servis strojov na tryskanie suchým ľadom CO2 a výrobu a predaj suchého ľadu. Predstavuje ekologickú a neabrazívnu metódu čistenia povrchov, bez použitia vody, chémie, bez rozoberania strojov či odstavovania prevádzky.
Viac informácií získate na www.ict-slovakia.sk