03/10/17
Veľa mamičiek rieši neustále dilemu, ako správne obliecť dieťa do chladného, jesenného či zimného počasia. Niekto skôr preferuje obliecť dieťa viac, aby mal istotu, že neprechladne, niekto sa zasa prikláňa k teórii zdravého otužovania a nechce dieťa zbytočne prehrievať. Ako nájsť ten správny kompromis? Určite ste už počuli o vrstvení oblečenia a ak aj náhodou nie, povieme si o tom trochu viac do hĺbky. Oblečenie by sa malo skladať z troch základných vrstiev, pri ktorých je dôležité ich materiálové zloženie.
Prvá vrstva, spodná, plní funkciu odvádzať pot a vlhkosť ďalej od tela a tým zabezpečiť pocit tepla a sucha. Keďže je v kontakte priamo s detskou pokožkou, mala by byť s prírodného materiálu ako je bavlna, vlna, prípadne ich zmes pre lepšie vlastnosti. Pre maličké deti, ktoré sa ešte veľa nehýbu je ideálna biela 100% bavlna, ktorá neobsahuje žiadne farbivá, na ktoré môže byť detská pokožka mimoriadne citlivá. Pre staršie deti, ktoré sú aktívne, hýbu sa a potia, existujú rôzne zmesi vlny. Vlna je ideálna na udržiavanie tepelného komfortu, ale samotná vlna je kúsavá, preto sú lepšie zmesi, ktoré vedia zabezpečiť väčšiu jemnosť, prípadne pružnosť materiálu a sú pre dieťa pohodlnou a príjemnou voľbou.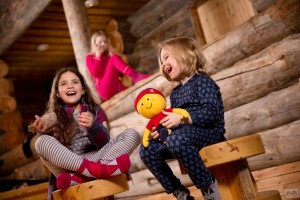 Druhá vrstva je tepelný izolant, je to hrejivá vrstva, ktorá má v chladnom počasí dodávať tepelný komfort a pritom by nemala brániť prestupu vlhkosti ďalej od tela. Keďže vzduch najlepšie izoluje, táto vrstva by ho mala vedieť v svojej štruktúre udržať čo najviac. Druhá vrstva býva často z umelých materiálov ako je fleece. V studenom a vlhkom počasí, keď už klasické materiály nepracujú si fleece dokáže udržať svoje termoizolačné vlastnosti pričom je jemný, mäkký a rýchlo schne.
Tretia vrstva by mala mať niekoľko základných vlastností. Chrániť voči vetru, vode, ale zároveň byť priedušná a pri deťoch aj oderuvzdorná, aby oblečenie čosi vydržalo, keďže deti vedia dať oblečeniu poriadne zabrať. Do veľmi chladného počasia sú ideálne páperové výrobky, ktoré majú najlepšie termoizolačné schopnosti a pritom sú ľahké a skladné. Do vlhkého počasia, keď páperie stráca svoje termoizolačné schopnosti, sú zasa lepšie umelé materiály, ktoré si vedia udržať svoje vlastnosti aj pri zmene vlhkosti.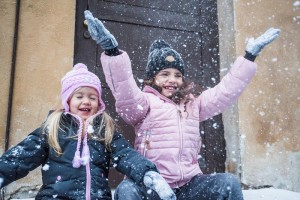 Problém je, že kvalitného zimného detského oblečenia je na Slovensku nedostatok. Veľké reťazce sa cenou aj dizajnom oblečenia tlačia na prvé priečky v predaji, ale materiálovo a kvalitatívne pokrivkávajú. Kúpiť vlnené detské termoprádlo alebo funkčnú, prípadne páperovú zimnú detskú bundu či detský zimný overal je u nás problém. Nestalo sa Vám niekedy, že ste kúpili krásnu zimnú detskú bundu, ale po prvom praní ste ju mohli vyhodiť, prípadne v nej bolo dieťaťu zima? Niekedy sa oplatí radšej zainvestovať viac a byť si istý, že sa môžem na oblečenie spoľahnúť a dieťaťu v nom nebude zima. Kto iní, ak nie takí severania vedia o zimnom oblečení viac. Ak ste ešte nepočuli o Fínskej značke Reima tak je na čase dozvedieť sa viac. Predáva celosvetovo a je na trhu už viac ako 70 rokov a pomaly si získava popularitu aj na Slovensku. Inšpirujte sa jednoduchým a čistým severským dizajnom a kvalitou a doprajte svojim deťom oblečenie, v ktorom môžu svoj voľný čas vonku tráviť v teple, suchu a pohodlí za každého počasia. Kolekciu tejto značky nájdete na tu.
29/09/17
Rutile is more pure Raymond Mill titanium dioxide, the general content of titanium dioxide in more than 95%, is an important mineral raw materials for titanium extraction. Because of its high temperature, low temperature resistance, corrosion resistance, high strength, small specific gravity and other excellent performance, and is widely used in military aviation, aerospace, navigation, machinery, chemicals, desalination and other fields. The treatment of rutile ore, need to go through crushing, screening, milling and a series of processing technology, can be made of rutile titanium dioxide. The establishment of a complete rutile processing line requires the use of jaw crusher, impact crusher, cone crusher, red stone mill and so on. First with a jaw crusher to the larger red stone ore for primary crushing; and then use the impact crusher in the crushing; sieve through the vibrating screen size will meet the requirements of the delivery to the mill grinding. This formed a complete rutile titanium dioxide processing production line.
Red stone has the characteristics of brittle, hardness between 6-6.5, the use of Ultrafine Mill to deal with it can give full play to its various performance advantages. As a leading domestic Rutile Raymond Mill manufacturers, our equipment combined with foreign advanced milling technology, made of high-tech wear-resistant materials. In order to improve the degree of automation equipment, its electrical system uses a centralized control, milling workshop can basically achieve no homework, effectively reducing the labor costs. Through the improvement of our professional engineers, compared with other milling equipment, the sieving rate of up to 99%, with high efficiency, stable operation, easy to operate features. At the same time it reached the national environmental standards, to provide customers with a clean operating environment. Although our equipment combines the skills of foreign initiative, with unmatched performance advantages, but our rutile mill prices in the same industry for medium level, high cost has been welcomed by customers around the unanimous welcome.
At present, China's rutile Construction Waste Crusher production capacity of only a few thousand tons, and demand has reached more than 100,000 tons, most rely on foreign imports, the price of up to 20,000 yuan per ton. Future rutile resources demand, market space is huge. We believe that our red stone mill opportunities for the user to bring considerable benefits.
28/09/17
Despite having released in 2011, the 'Bordeaux' Air Jordan 7 For Sale Retro is being remastered and re-released in the Summer of 2015.These should have better materials compare with 2011 version .and the shape has been slightly altered.Another change from the 2011 pair is that this 2018 version has "NIKE AIR" on the insoles, which I'm sure no one will be complaining about.
It was born in 1992 which inspired by Africa travel by Tinker Hatfield. wilderness gallop of animal , wine of french , all of elements are into the Air Jordan 7 Retro .it is a amazing designer so far.
Air Jordan VII offers some very nice traction that can keep you planted and stable throughout gameplay.The overall surface area is very good no matter your position or movements. If plying in the clean court , it is the best choice ,but the duty court , it is not very well for AJ7 which  was remedied by consistently wiping the bottom .
The most notable difference between the AJ7 and the previous models would be the overall cushion. The original and first round retro releases featured an embedded full length Air unit and these newer retro models have them placed directly under foot.
The molded arch does its job while the overall fit and materials will take care of the rest for you
Workmanship ; materials held up nicely, most of the visible damage to the shoe is on the painted sections of the midsole so the leather is definitely a reliable option. Each material option offers different levels of support so if you wish to maximize support then go with the leather versions.
Cushion :The original and first round retro releases featured an embedded full length Air unit and these newer retro models have them placed directly under foot.
Breathbility: it is not very well because of the leather material ,especial for plying long time .
 Appearance: whatever the colorway or design of "Bordeaux" ,for me ,it is amazing .
 Cost-effect : The quality and value for money .
Overall , Air Jordan 7 "Bordeaux" is possibly the best early Air Jordan Release 2018  for on-court purposes.They are the classic so far.  They are a very well rounded shoe in general when compared to the previous models as they offer the best cushion, solid traction, reliable materials with a pretty solid fit, above average ventilation and still offer plenty of support.
21/09/17
Kanye West's Adidas Yeezy Boost 350 V2 has been unveiled in a handful of unconventional colorway these last few weeks, including the "Blue Tint" and "Semi Frozen Yellow" renditions that are rumored to release sometime in December.
In addition to those two kicks, @YeezySeason2 has also unveiled a couple of other colorful Yeezy Boosts, such as this Yeezy Boost 350 V2 Chalk Coral colorway that features a "Clear Brown/ Chalk Coral/ Clear Aqua" makeup.
According to @www.newyeezys2017.com, the "Chalk Coral" Yeezy Boost 350 V2 is rumored to be a women's exclusive. Take this information with a grain of salt however, as Adidas has not yet mentioned any plans to release this colorway, or the "Red Night" pair that was unveiled earlier this week.
We do know that Adidas will be releasing the Yeezy Boost 350 V2 Beluga 2.0 colorway in October, though a specific release date has yet to be announced.
Kanye West is expected to officially unveil New Yeezys Season 6 during New York Fashion Week in September, which could provide us with more information about his plans for the Yeezy footwear line, including the mysterious Yeezy Runners that have not yet released.
Check out some additional images of the "Chalk Coral" Adidas Yeezy Boost 350 V2 below and stay tuned for any release details Cheap Yeezys.
18/09/17
We all know that that boaters crave for more power than cars and airplanes and ZTW has come up with a whole new way to put the power to the water – The new SEAL line water-cooling brushless speed controls for marine applications. ZTW uses new FETS that offer less resistance and less heat dissipated. Even so they added more water-pipes to increase the cooling area to dissipate the heat faster and better so as to bring a even more incredible power levels without any risk of frying the controller.
Well designed MCU with efficient code makes for faster sync and accurate control. Beside the performance they have also bring you a whole new fashion looking marine ESC.
This is their SEAL marine speed controller. Quality, performance and fashion are what they are all about.
kerui alarm Vu Solo 4K Headrest DVD player kerui alarm Store DLP HD projector Hikvision Store Naviskauto Headrest DVD Hikvision Ip camera SunrayBox 
Features:
1. Extremely low internal resistance
2. High efficient three pipe water cooling system
3. Super smooth and accurate throttle linearity
4. Over temperature protection
5. Auto throttle shut down in signal lose situation
6. Supports high RPM motors
7. Power arming protection (prevents the motor from accidentally running when switched ON)
8. New Advanced programming software
waterproof esc brushless
waterproof brushless motor and esc
velineon brushless motor and esc
traxxas brushless motor and esc
rc brushless motor and esc combo
rc boat brushless motor and esc combo
Specifications:
Continuous Current – 300A
Burst Current (10s) – 180A
Battery – 5-18 NC/2-6 LiPo
BEC Output – 5.5V/3A
Width – 65mm
Length – 46mm
Height – 23..5mm
Weight – 780g
ZTW Seal 300A OPTO HV 14S User manual Free Download